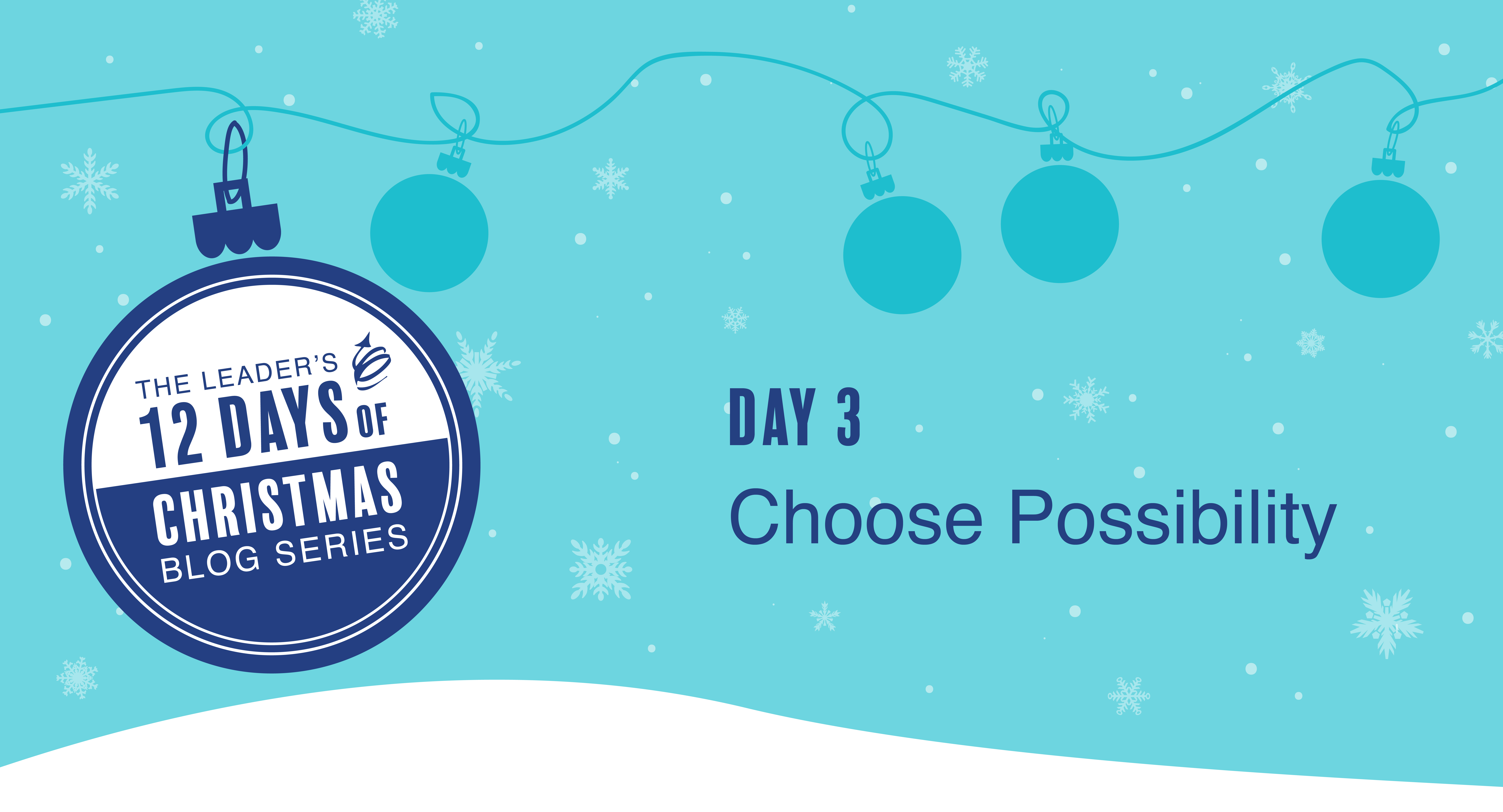 On Monday, I offered a shopping list of gifts leaders could give this Christmas season. In that post, I promised to detail each of these gifts as a part of a 12 Days of Christmas series. For Day 3, the shopping list suggests you see the world through the lens of possibilities.
Specifically, the Day 2 item on the list reads:
See the Possibilities
Consider you had two people you could choose to follow. They are equal in leadership skills and experience. Both are honest and trustworthy. In fact, they are equal in every way, save one.
Leader One sees challenges, flaws, barriers, and obstacles in the path forward. Leader Two looks to the future and while acknowledging the obstacles, looks for possibility, potential, and hope.
Which leader do you want to follow?
Which leader would your team consider you to be?
In the classic movie, "12 Angry Men," Henry Fonda's character displays this quality, when he says often, "It's possible!" (here is a clip if you want to see it in context).
Your team wants and needs you to look forward and see possibilities when considering:
Your vision (which we talked about yesterday)
Your goals
Their projects
Them and their teammates
Why is this a Gift?
Why is your picture of the possibilities so important? Because if you don't see them, you (and your team) can't move toward them. And because, as the leader, you need to provide hope and belief that future is bright. After all, the future is where you are heading.
I am not talking about simple positive thinking. Rather I am urging you to have and give the gift of a positive expectancy. This is more than a wish, but once you see a positive future, you can roll up your sleeves and get to work achieving it.
A Final Thought
Before you can see the possibilities, you must choose possibility as an idea. In this case, your mindset and your habits are a precursor and the support for the gift I am suggesting you give your team. When you choose to look for and see possibilities and then share what you see with others, they will see it as a gift, and be far more likely to join you on a journey to achieve those possibilities.
When you look at a situation or person, do you see possibilities and potential or only obstacles and concerns?
…..

We've talked about seeing possibilities as both a belief or mindset as well as a habit. We've created an ongoing leadership development experience that explores more than just skillset, but also mindset and habitset. If this post resonated with you, I urge you to learn more about The Remarkable Way here.