By Kathryn D. Cramer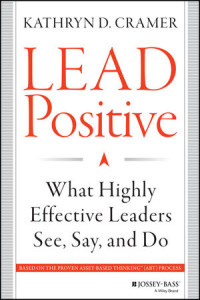 I received an advanced copy of this book to review several months ago (the book was published a bit over a month ago). I read it this week, and obviously I liked it or I wouldn't be typing these words.
Until today when I went to get the Amazon link, I never made the connection between this book and a very cool book I read about a year and a half ago called Change the Way you See Everything Through Asset Based Thinking (Here is my much-shorter-than-this review of that book).
That book introduces the author's idea of asset based thinking – which while isn't new, is extremely powerful (yet often overlooked). In short, that very cool book asked us how things would be different if we focused more on:
Opportunities rather than problems
Strengths more than weaknesses
What can be done instead of what can't
This book operationalizes those ideas for leaders.
Specifically the book, as the title suggests, focuses on what we see, what we say and what we do. The book does make the case for asset based thinking with stories and research, but where it shines is giving you specific tools and approaches for important leadership skills like coaching in a range of communication situations.
While I loved the "coolness" of the other book, this book put it into practice for us as leaders.
Admittedly, I believe her premise, and in fact, while I learned a number of tools, this is generally already my approach, belief and a strength. If you want to build your ability to lead positive, I highly recommend this book. If you want to bolster your belief and build your skills, buy both books.
If your mind is open, but still wonder if the positive approach is all roses and rainbows, this book can help persuade you of the value (based on research and results) of this approach.
Overall, this book is for every leader who intentionally wants to become more effective.