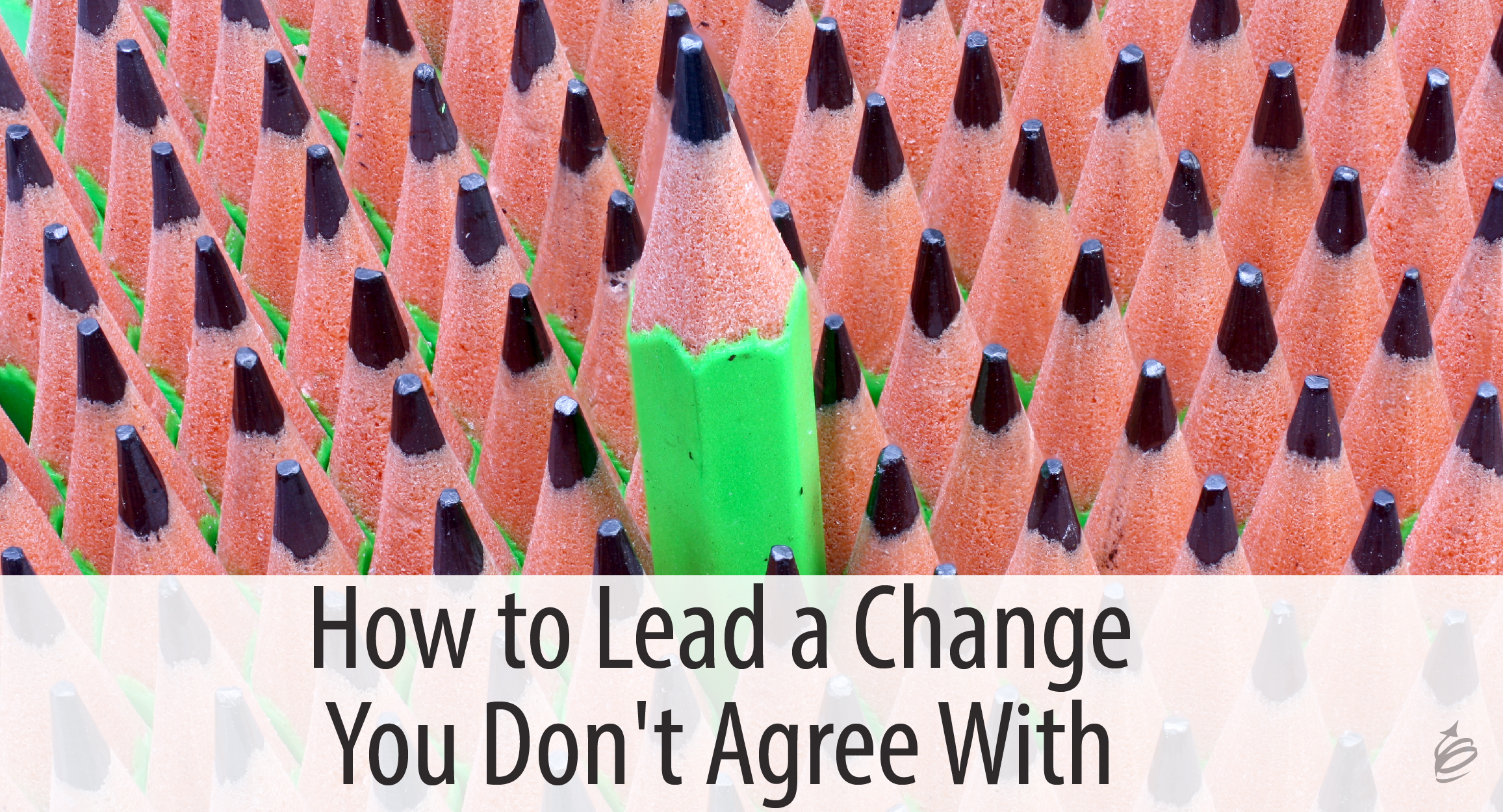 As a leader, change is part of your job description; it comes with the territory. And while leading change with others involved is always complex, in some situations, it seems almost impossible. . .
Most people reading this are what I call a "manager in the middle" – you have a team that reports to you, but you have a boss too. And whether you are a first line leader with two team members or a Senior Vice President, with a span of influence over several divisions and hundreds (or thousands) of employees you might find yourself in the same situation: Your boss, comes to you and says: "implement this change" or "roll out this change to your folks", and it is a change that you don't agree with.
Now what?
I could say, "welcome to the middle, suck it up and go do it"; but that wouldn't be very helpful. Unfortunately, that is the basic message many of you may have received in the past. My goal is to give you some additional guidance and insight that will help make this difficult change situation a bit easier, clearer, and hopefully more successful, both for you and your team.
After receiving the edict to change, you will likely find yourself in one of three situations:
You dislike/don't agree with the change for ethical, legal, or moral reasons.
You dislike/don't agree with the change, but it is based on changes in law or
regulation.
You dislike/don't agree with the change, and the decision was made inside the
organization.
The Ethical Problem
If you are being asked to implement a change that you see as unethical, amoral, or unlawful, you have a bigger set of questions to ask yourself. You likely need to understand what you are being asked more clearly – it is possible that with a full understanding, your concerns will be alleviated.
But if that isn't the case, you need to be guided by your values and make a bigger decision first, by wrestling with questions like these:
Given that I am being asked to lead this change, can I work here?
Am I comfortable with this request?
Does this request signal that I need to leave?
I can't answer these questions for you but I strongly urge that you ask them of yourself, before you advocate for and lead a change that conflicts with your beliefs and values.
The Government Edict
Perhaps the change you are being asked to lead or implement is one you don't like or agree with, but it is related to a new law or governmental policy. In this case (unless your challenge is with the way you are being asked to implement it which you might be able to influence), you likely need to grin and bear it – after all, it is the law. If this is the case, you can tell your team "this is the new law and we have to comply." That will be factual, and in some ways, helps you lead the change.
Be careful though.
While it is easy to shift the focus and "blame" the required change on the government, and while it can be helpful to be transparent and share that you don't like the change either, those approaches won't lead to much more than compliance with the change. Compliance is the lowest hurdle to cross in any change effort; and while it might be all you need in a case like this, as a leader, be looking for ways to move beyond mere compliance. If you stay in the victim mode of blaming the government for the change, you have no chance of getting a team engaged in a change and owning the outcomes.
The Organizational Decision
While all three of these situations are challenging, this is the version of the problem people most often ask me about, and is the one with the most opportunity for you to make a real difference:
The boss (or some group above me) is making a change and asking me to support and implement it – but I don't agree with the change.
If (when?) you find yourself in that situation, here are some suggested steps:
Give it a little time. Have you ever noticed that sometimes as you have some time to think about a change, your perspective on it changes? If you have some time before implementing the change, allow yourself a bit of time before letting your frustration level to take charge of your thinking.
Ask for more information. Some people don't want to ask anything for fear of being seen as difficult or uncooperative. You may not like the change, because you don't yet really understand it. Make your intentions clear – you want to understand the change well enough to successfully communicate it to others. Learn more so you can do that.
Understand the why. The most important thing to ask for is to understand why the change is being implemented. Once you understand the change, you may agree with it – or at least see it in a new light. While you might have chosen to implement it differently, once you understand why the change is coming, you are far better prepared to support the change and lead it successfully and confidently.
Recognize the source of your concern. Once you have more information, you will better understand your concerns. This is important, because with this understanding you can put your concerns in perspective. There are typically many pros and cons for any change. With more perspective, you may be far more successful in supporting the change.
Influence the outcome if possible. Once you have a full picture, you still might want to influence the change itself, or the implementation plan in some way. Sometimes the change is set in stone and that isn't an option, but either way, if you do the first four steps suggested, you will be far more successful in influencing change if you choose to.
Implement the change. If you follow these steps, you will more likely agree or at least understand the change. When that is true you will be able communicate and lead the change with greater confidence and success.