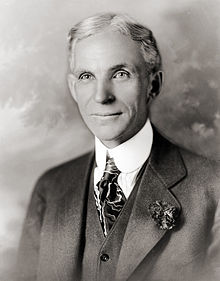 I found this quotation in the front of a book I began reading this week – Wheels for the World by Douglas Brinkley. The book is about the history of the Ford Motor Company, and on the page opening the book there are three quotations, one from Henry Ford himself.
I have shared this quotation with two groups this week, and so it seemed appropriate to share it here as well.
" Businessmen go down with their businesses because they like the old way so well they cannot bring themselves to change. One sees them all about – men who do not know that yesterday is past, and who woke up this morning with their last year's ideas."
 – Henry Ford, Industrialist
 Questions to Ponder
– How do you feel about change?
– How wed are you to your past ideas?
– How often do you generate new ideas for your projects and activities?
Action Steps
1.  Look at your business, projects or activities with a blank sheet of paper.
2.  Consider what the current and future situations look like.
3.  Then determine what the best course of action would be – starting from the blank sheet of paper, not with everything that currently exists.
4. Use those insights to determine what new ideas must be implemented.
My Thoughts
This quotation struck me when I first read it, and it had a similar impact when I read it to groups. It seems to me that, while we can all fall into this trap (women too, though that wasn't how Ford framed it in his day), the trap might be most dangerous when things are going well.
It is easy to be a believer in your current ideas when you are having success.
It is easy to lose sight of the need to change when profits are high.
It is easy to get complacent.
And when we do, in our minds, new ideas aren't needed – let alone welcomed.
If things are going well for you now, or even if they aren't, think about this question – Did I wake with last year's ideas or am I looking to the future for new ones?