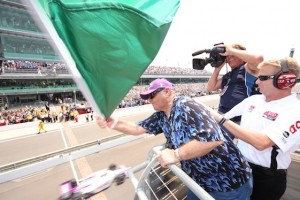 I live in Indianapolis, Indiana – the only town in America that doesn't have Memorial Day weekend – we have Race Weekend. This doesn't mean we don't honor those who gave their lives for our country (in fact, we honor them in more ways than most), it just means that the last weekend in May is when we host "The Greatest Spectacle in Racing" – the Indianapolis 500.
I'm writing this before the race takes place, and you are reading it after it has finished. Regardless of what happens or who wins, there 6 words that I know will be said on Sunday around noon Eastern time – "Ladies and Gentlemen . . . start your engines!" Those words bring chills of excitement to race fans, and I hope after this short article, those same words will be a not-so-subtle reminder to you as a leader.
In the instant after those words are spoken, 33 cars will roar to life and fans will know the race is about to begin. The pace laps can't take place, the green flag can't drop, the pit stops can't happen and a winner can't be crowned until the engines are started.
Of course, many other steps lead to those 33 cars being in the starting grid, awaiting those words, but nothing else will happen until the engines are started.
We all know that a project can't be completed until we begin; I want to take you beyond that idea to something you may have never thought about. The idea is stated elegantly by the poet Muriel Rukeyser when she wrote "nourish beginnings." (I wrote a brief post about this quotation on Friday – you can read it here).
So you want to get started, but how can you do that more successfully and consistently? In other words, how can you "nourish beginnings"? It is a great question. Here are some answers.
How to Start Your Engines
The advice below applies to us as individual contributors and as leaders. My advice is to read the list twice – first as an individual, then as a leader, thinking about how to apply these ideas to those around you.
Reward starting. Things that get rewarded get done. If you want to reward starting, provide incentives for it. Most people think about rewards at the completion of a project or goal, and that is still important, but think about what can be given/received after starting. Make the reward commensurate with the effort, but make it valuable enough to provide the incentive.
Make waiting unacceptable. Often people say they are perfecting their plan and working out all the details. That may be what they are saying, but it is often a façade – a comfortable (and acceptable) way to justify procrastination. If you want people to start, expect that they do. Make starting the standard operating procedure.
Find smaller starts. This is the idea behind the longest journey begins with the smallest step. Find a step that you can do in five minutes. Right now. When you break down the steps like this, all of the rational and irrational reasons for waiting fall away. If you find yourself waiting or not acting, ask yourself: What small step could I take in the next 5 minutes? Think about the biggest goal, change or challenge (they might all be the same thing) you are facing now as a leader. What is the step that you need to take next or right now?
Just start. No analysis. No pressure. No waiting. Start.right.now. Doing that more often will build a habit of starting. Think about building your starting muscles through training. Just start!
When you take these steps not only will you begin more frequently, but you will be nurturing your ability and willingness to start.
If the race car doesn't start, it can't win. If you don't start, neither can you.
The time is now.