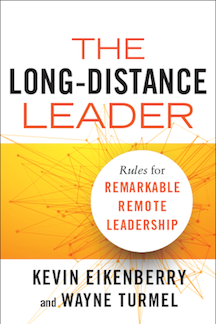 It is finally here. Tuesday, June 5 is the official publication date of The Long-Distance Leader. After years of working with remote leaders and leading remotely myself, and months of writing, editing, and preparation, The Long-Distance Leader: Rules for Remarkable Remote Leadership will soon be in your hands.
But only when you order a copy (You can pick your favorite retailer from the list here.). While the book will provide tremendous value to any leader who reads it, we want to give you some extra encouragement to order during the launch.
Why to Buy Now
When you order your copy now, you will get two bonuses for buying a copy:
Exclusive access to the authors with a special Q&A webinar just for book owners on June 15 @ 12 pm ET! ($99 value)
A copy of our 19 Rules for Remarkable Remote Leadership e-Book ($20 value)
And the bonuses increase in number and value when you buy more copies (all the details can be found here).
While these bonuses should be reason enough to go ahead and get your copy today, with a little luck, you could get even more . . .
Daily Drawings
Starting on Launch Day, Tuesday June 5, we will have daily drawings from among those who have pre-ordered and ordered the book (and registered for the other bonuses). Each day, we will draw two winners.
One person will win their choice of one of our live two-hour virtual workshops (a $369 value), including:
How to Create and Manage Remote Teams
Leading Effective Virtual Meetings
Remote Goal Setting and Accountability
Effective Remote Coaching and Feedback
Maximizing Your Productivity as a Remote Employee
And one person will win a free consult with their choice or Wayne or myself (a $500 value).
You will receive one entry for each book you purchase, and the earlier you purchase, the more chances you will have to win.
Grand Prize Drawings
On the Live Q&A Webinar on June 15, we will draw the grand prize winners among all book buyers. While we are not announcing these prizes yet, rest assured they will be outstanding – and you will want to have the chance to win and be on the live event to win even more!
Facebook Live
Tuesday, June 5, at 4:15 pm ET, Wayne and I will be on Facebook Live, to announce our first daily winners, talk about launch day, and share some content ideas from the book. After that, we will be creating other Facebook Live events over the following few days. We will be announcing those as they are determined.
Follow me and mark your calendar!
Why are we Doing this?
You might be wondering why we would give all these things away and go to all this work. It is a good question, and there are two answers.
We are in the business of helping leaders grow so that they can make a bigger difference in the world. This book can't help that happen if it isn't in the hands of those leaders! And the more hands it reaches, the closer we come to reaching our vision.
Book sales in the first couple weeks of a book's life generates momentum on many fronts, and so if we can help more people be aware of the book and not procrastinate in buying their copy, it helps them, and it helps us too. That is why we are focusing now on the launch, from June 5-15.
Final Thoughts
We are going to have some fun with this launch. There will likely be surprises added to what I have described above. We hope you buy a copy so you can join in this fun, and so that you can become a Remarkable Remote Leader.
POST UPDATE:
Since the book launch in June 2018, we are offering new and different bonuses with the purchase of The Long-Distance Leader. To learn more and order a copy, visit the book site here.