By Chip Bell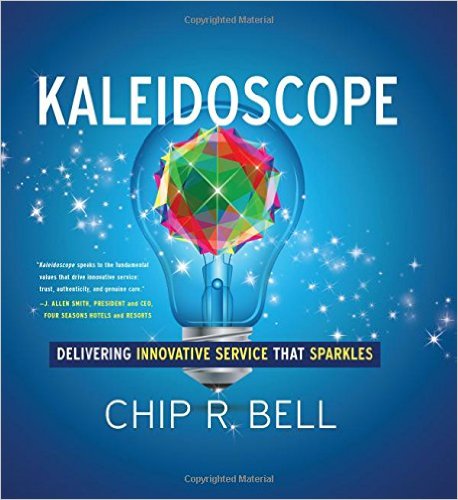 When was the last time you looked at a kaleidoscope?
Chances are, whether it was days or years ago, you had a visceral reaction to that question. You can see the changing colors, feel the turning of the animator (the dial you turn that changes your view), and remember the sight of peering through that little hole.
In Chip Bell's new book, he uses the metaphor of the kaleidoscope to help us see new ways to deliver service that is both innovative and memorable. Like a kaleidoscope, the book is colorful and unique – and he uses this metaphor very effectively throughout.
The elements of Bell's premise are found in the main chapters of this compact book:
Enchantment
Mercy
Trust
Ease
Grace
Generosity
Truth
Alliance
Passion
Some of these might make intuitive sense to you in a book of this topic, others may not. I would invite you to start with chapters that seem surprising to you – they might hold the most insight for you and your business. In addition, throughout the book there are 50 animators – action items – to turn the ideas presented into results in the real world.
Admittedly, I am a fan of both the topic and the author. Even so, this isn't just another book on Customer Service; it is a joy to read and will both inspire and challenge you to create more innovative service for those you serve.
Note: If you are interested in learning more about these ideas and from this author, he's been a guest on The Remarkable Leadership Podcast. You can listen to that episode here.