By Thomas H. Davenport and Brook Manville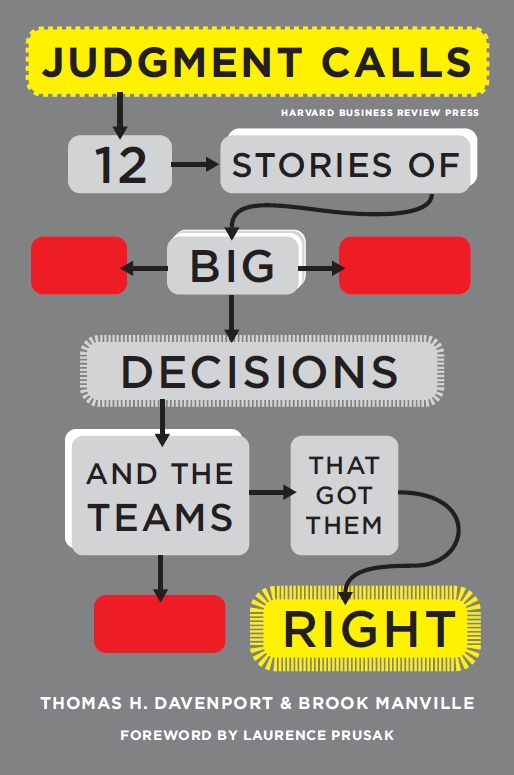 How do organizations make decisions?  Or how do they make really good decisions?  Researchers and writers have been thinking about, studying and writing about these quandaries for a long time.  This book attempts to answer the question, and not by creating a new model or fool-proof checklist.  (Early in the book, the authors made me smile when they wrote, "… does the world really need another management framework?")
Rather they help us as readers see organizational decision making in a new way; by helping us think about and understand  organizational judgment. And through the twelve stories they lay out four basic components of organizational judgment:
Decision making as a participative problem-solving process
The opportunities of new technology and analytics
The power of culture
Leaders doing the right thing and establishing the right context
For each of these components, three stories are told – about how organizations made tough decisions and how these components played into their success.  The stories are engaging and because they are stories, the book is a fun read.
This book is fascinating and very useful for leaders at all levels.  If you are thinking this is written for the C-suite set, think again.  There are opportunities and insights for leaders at all levels, as well as coaches, consultants and more.
So I recommend this book . . . AND . . . on Monday September 17th, I will be speaking with co-author Brook Manville for the benefit of our paying members of the Remarkable Leadership Learning System.  But because I love this book, I am buying you a seat to join us for this one hour call.  You can listen to Brook's insights, and ask your own questions as well.  All of the details and your opportunity to register is here.