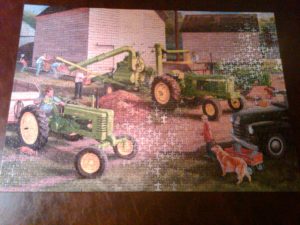 A couple of days I wrote a post about project leadership lessons from a jigsaw puzzle.  Last night I finished it  (aren't those tractors beautiful?)
The lessons from the earlier post are valuable.  Here are a couple of other additional thoughts.
Energy of the "team"  (Kelsey, especially) grew as I got closer to the end.  She sat down with her Dad and worked on the puzzle for a few minutes, when there was about 10-15% to go.  It reminded me that when the task/project looks possible, energy goesup.  One of the reasons she was bored before was that the task looked impossible to her.  It is hard for anyone to get excited about an impossible task.
One of our most important leadership tasks is to help people see the possibilities and keep them engaged in the vision of success.
I mentioned the power of closure in the first post as well, but I felt it in a visceral way as I was finishing last night.  Energy grew each time an obvious benchmark was reached.  There is a major leadership lesson here for all of us.  Chart progress, show progress, talk about and celebrate (even in very small ways) true progress towards successful project completion.
When you apply the lessons from my jigsaw puzzle experience to your projects in 2010 and beyond, you will have a higher success rate, more learning from the projects and people ready to engage in the next project more willingly.