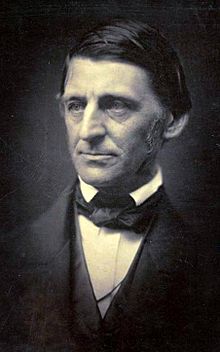 Emerson is one of the most quoted guys around, and this one is one of my favorites. Consider this a gentle nudge or a kick in the seat of the pants, depending on how you answer the questions that follow.
"We are always getting ready to live, but never living."
– Ralph Waldo Emerson, essayist
Questions to Ponder
– Am I living, right now?
– If not, what am I waiting for?
– What can I do right now to stop waiting?
Action Steps
1.  Look in the mirror and really think about the questions above. Don't go too quickly – really answer the question.
2.  Take time today to rearrange your priorities or look at your activities so you can be more present and start living, rather than waiting.
3.  Beyond the reflection and the choices, choose to live right now.
My Thoughts
The famous line from the movie The Shawshank Redemption is appropriate here.  "You either get busy living, or you get busy dying."  Emerson challenges us with the same admonition, though he does it less directly. Both thoughts imply choice – a choice we all have each moment.  Three times in the sentences above, I italicized the words right now, because they are a key to the point.
To live is to be present right now.
It starts with a realization, and happens with a choice.
If you are waiting for the weekend, your vacation, the results of the election, or Christmas, you aren't living in the present.  What can you be grateful for right now?  What are you noticing around you right now?  What can you learn right now?  What can you appreciate or smile about right now?  What sounds do you hear and smells do you smell right now?
It is a choice we all have.
It is time to stop being a victim and stop waiting for something else to happen.  Your life is yours to live, and live more abundantly, right now.