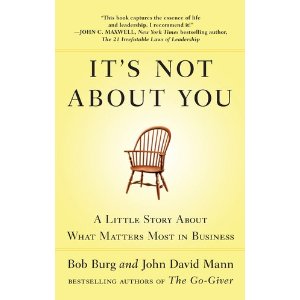 This week's Resource Recommendation is It's Not About You by Bob Burg and John David Mann.
This book is so new that it isn't released until tomorrow! I was pleased to get an advanced proof of this book so I could read it and tell you about it before it is released!
I've reviewed other books by Bob and John, including Go-Givers Sell More (see my review here <- https://blog.kevineikenberry.com/books/go-givers-sell-more/ ) and the original best seller, The Go Giver.
This book follows the same model (it's a very readable business parable) as The Go Giver, yet focuses more on influence, persuasion and leadership.
The story follows a young manager who is trying to persuade 500 employees of a legendary, but struggling, company to agree to a merger. During the course of an eventful week, the hero learns a lot and . . .  well, I can't tell you the ending.
If you read many of my recommendations, you know I've recommended a number of business parables over the years (and I read more that I don't recommend). It is sometimes difficult to find something new to say about books in this genre, so I typically recommend them when I believe in the lessons, even if the format becomes predictable at times.
The best of these books are those with great messages, that engage me in the reading enough to not try to figure it out too soon, or where the story is involved enough that I don't know exactly what will happen, story-wise.
This book delivers on all of those fronts. The lessons come as Ben's Keys to Legendary Leadership (there are five), and they are great lessons.
If you like this genre, like shorter reads, and are interested in leadership and influence in particular, pick up your copy now!