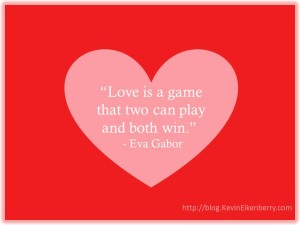 Valentine's Day is the day everyone is thinking about love. So I'll go with that thought and encourage you to think about love today – but from more than one perspective.
Questions to Ponder
– How can I help those I love win?
– What does winning at love look like?
– How does this quotation connect for me at work – i.e. how can I apply it as a leader or co-worker?
Action Steps
1. Help someone you love win big today.
2. Show your love for those you work with today.
My Thoughts
So my questions and actions are a mix of "Valentine's Day" love and connecting love to your work. I hope you will consider both deeply. My belief? There is a real place for love at work, and the best leaders definitely show love and passion – for employees, for Customers, for products, and more. Rather than writing more about it here, I will link you to three posts I've written in the past that point to this connection.
The Connection Between Listening, Love and Leadership
Five Love Affairs Leaders Should Have
Coaching, Love and Belief  (the first part talks about an event that has long past – but the rest of the post is to our point)
Enjoy them – and enjoy those you love this Valentine's Day.