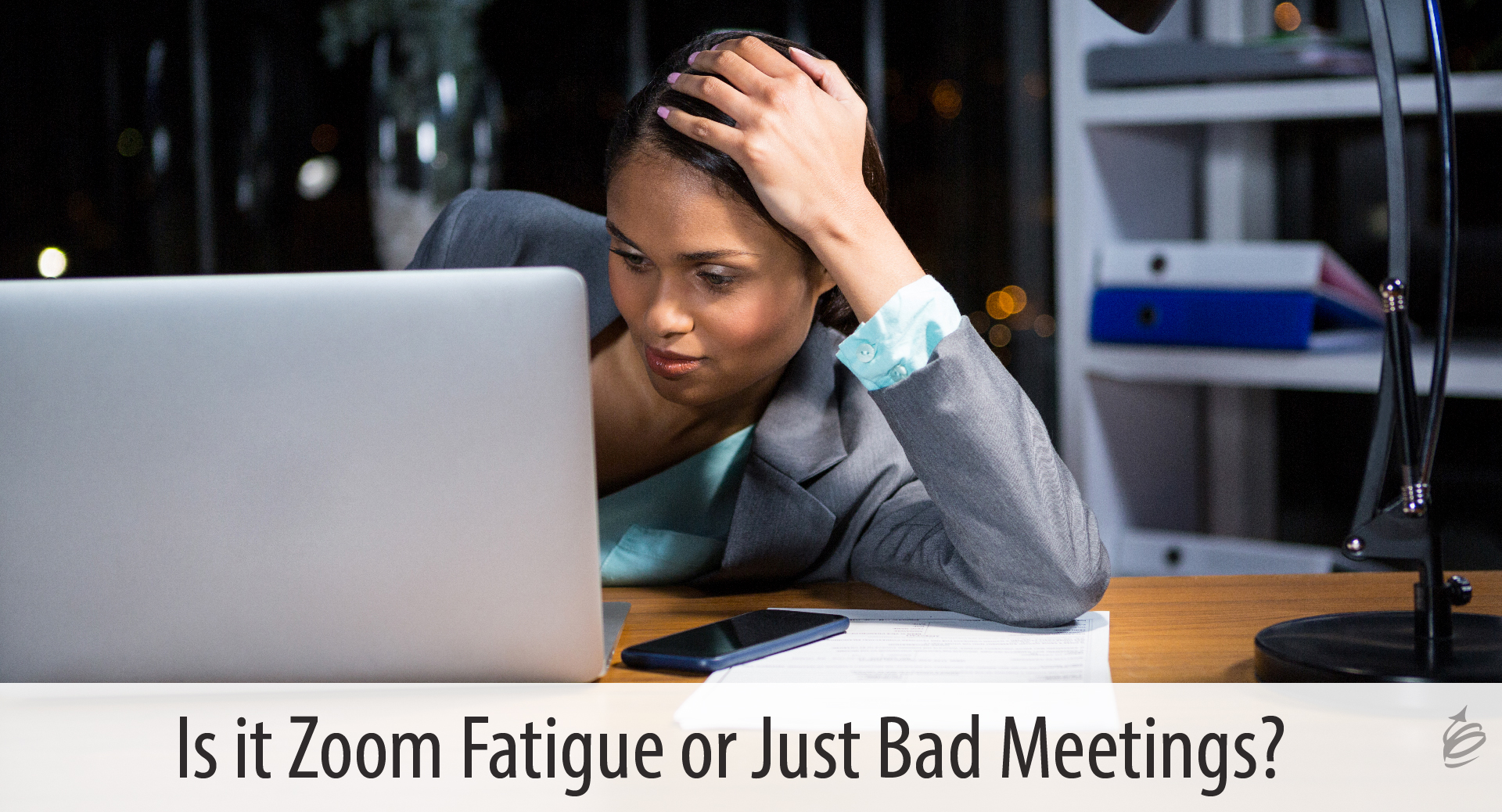 Our vocabulary has changed over the past year. I recently wrote on Forbes.com about some of those words. Here's a phrase I didn't write about: Zoom fatigue. A year ago, that wasn't even a thing. Heck, most people had never used Zoom. Now, it is a well-known and oft-used term that everyone seems to understand. Let's talk about what Zoom fatigue is and isn't – and determine if it is all Zoom's fault, or just how we use it.
About Zoom Fatigue
According to PsychiatricTimes.com, Zoom fatigue "describes the tiredness, worry, or burnout associated with overusing virtual platforms of communication." Chances are you can relate to that statement.  There are some factors researchers (and all of us) are noticing that might be contributing to this phenomenon, including:
Micro-delays in audio, plus blips and short-term audio cut outs may be disconcerting, but are a source of confusion.
The need for heighted attention – Zoom sessions leave us feeling "always on."
The extreme amount of movement in our immediate field of view keeps are eyes moving and is mentally draining.
Seeing ourselves on camera causes some people to stress or obsess about their appearance, voice, or performance.
Chances are you were nodding your head at one or all of those items.  Being on Zoom (or any other video platform) all day can be draining.  But let's go back to the definition:  "caused by overusing virtual platforms of communication." (italics mine).
It's not Zoom's fault if you are on the platform in meetings all day long.  So rather than simply lamenting "Zoom fatigue" as one more negative outcome of the pandemic, let's look at solutions – both for using the platform and holding our meetings.
Some Zoom Solutions
Regardless of how many meetings you are attending, there are thing you can do to make your experience in using your video platform more effective.  Using these tips will likely reduce some of the stress, tiredness, and burnout.
Change the video view. If you are in a big meeting that is mostly one person speaking, turn the view to active speaker mode.  That way you aren't look at 8 (or 18!) video windows, with everyone's movements distracting you and taxing your eyes.  If the team agrees, have everyone turn off their cameras while someone else is presenting, then turn them back on for the discussion portions of the meeting.
Look away from the screen occasionally. If you are in a face-to-face meeting, do you make eye contact with people 100% of the time? It is ok to look away briefly, to give your eyes a break for all the stimulation on the screen.
Stop multi-tasking. You are doing it, and if you are it is adding to the fatigue. Besides, it doesn't really make you more productive anyway – you will miss things in the meeting that you have to figure our or remain confused by – adding to your fatigue.
Consider the phone. While I am a big believer in the power of the webcam to improve communications, the phone will be effective and sufficient for many communication situations, and I believe it has become an underutilized communication tool.
The Meetings Themselves
The complaints I hear about meetings today, most all blame the technology, but the complaints are the same ones I have heard for nearly thirty years.  Here are a few of them:
We have too many meetings
They aren't very effective
We don't get anything accomplished
Every meeting leads to more meetings
They take too long
When am I supposed to get my work done?
The same people do all of the talking
In other words, meetings were often poor long before everyone fired up a webcam.
While some of these things might be exacerbated by our video platforms, they are largely issues of team culture, effective meeting planning, and effective meeting facilitation. All of these issues can be solved, but not in this post.
Blaming all of this on Zoom, or a pandemic, isn't necessarily helpful.  Consider what you can do to improve your meetings, regardless of platform, and things will get better.  And back to our Zoom fatigue definition – start by having fewer meetings – because a big part of the fatigue is caused by overuse of the video platforms.
….
If you are trying to lead successfully in this new world of remote work, you may want training that addresses the nuances of leading a team that isn't all in the same place. Enter The Remote Leadership Certificate Series. For over five years, we have been helping remote leaders grow themselves, their skills, and their teams in this working environment.
Join us for this practical, proven, and powerful way to build your skills as a remote leader. You can participate in the series in the future as a part of a virtual learning group or get immediate, on-demand access to all the tools and skills you need today. Start your journey to successful remote leadership here.