Yesterday, I wrote about Four Ways Location Influences Results, and last week I wrote about the Five Practical Reasons Values Matter to Leaders.   Consider this a mashup – I'm putting those two sets of ideas together in this post with a personal example.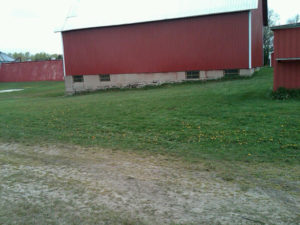 This picture was taken earlier this spring on the farm I grew up on.  I could have shown you a picture of the house or any other number of locations.  I picked this spot, behind two of the barns and in front of another, because it represents a place that has influenced my life and my values in profound ways.
It is "here" I learned the importance of family.
It is "here" I learned the value of hard work.
It is "here" I learned the importance of, and how to serve, a Customer.
It is "here" I learned to marvel at the growth of plants, animals, and people.
It is "here" I learned about what it means to have and be a neighbor.
It is "here".
When I am in this spot (or on the farm in general), I am connected to memories, life lessons and am rejuvenated mentally and spiritually.  And it is all about the place.
Of course these memories can be remembered and the lessons accessed in other locations, but when I am in this spot I am infused with feelings and connected to my best self in a way that is hard for me to replicate elsewhere.
From my brief example now it is time for you to apply my lesson.  Ask yourself these leadership questions today, as your leadership development activity of the day.
Where are your places that give you access to powerful positive feelings?
How often do you make your way to these places?
How do you (or could you) consciously use these locations to boost your energy, insight, productivity and success?
Depending on your response (tweets, and comments are always appreciated), I may make this a series of posts, giving you more concrete examples (personal and otherwise) of how place and values can intersect to create amazing results.