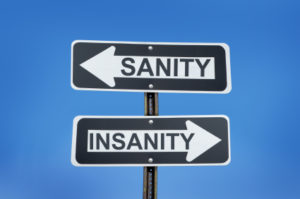 I'm not an expert on psychological disorders.  And while I know that many people who appear to be "normal" may have mental challenges, I also know that most everyone I deal with in my work and life is mentally stable, rational, and intellectually pretty healthy. . .
.  . . unless you consider the definition of insanity you've probably heard (and that has been attributed to many people):
"The definition of insanity is doing the same thing over and over again and expecting different results."
And so, while I work with intelligent, rational business leaders and professionals all day, by this definition, they are often truly insane.
Curing This Insanity
Determine the results you really want – know exactly what they look like.
Identify the results you are currently getting – notice and describe the difference or gap between what you have and what you want.
List all of the things you are currently doing that lead to the results you are currently getting.
Determine what new things you need to do to move to your desired future.
Determine which things you are currently doing that you need to stop doing in order to move to your desired future.
This simple set of steps might take significant time to complete, based on the nature and complexity of the situation, but these are the steps and they are truly simple.  They aren't difficult to understand, just apparently difficult for all of us to remember.
If you want to avoid this insanity in your personal life, in your work, and in your organizations, you must follow these steps.  If not, accept your current results and move on.
Here is another way to remember this lesson:
The same results require no different actions.
New results require new actions.
Better results require better actions.
Extraordinary results require extraordinary actions.
Are you willing to take new actions, or are you willing to live with your own kind of insanity?