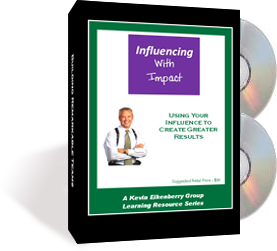 To be a successful leader requires that you can influence other successfully — after all, you can't control other people's behavior or choices, only influence them — which means that influence is a critical skill for a leader.
More than just for leadership, though. To be effective at nearly any endeavor in life requires cooperation and gaining agreement from others, in other words, the ability to influence successfully.
Without question, whether you've thought about it this way or not, influence is a valuable life-skill.
This is one reason I created the new two CD set called Influencing With Impact.  I wanted to help you build your confidence and competence as an influencer and to help you lead more effectively.
This set includes two 60 minute sessions packed with tools, techniques and practical ideas to help you become more influential.  Specifically, these discs focus on persuasion (and how passion plays an important role in it) and the value of the right attitude to your ability to be influential in the ways you most want to be.
Both of these sessions are recorded from the Remarkable Leadership Learning System, and were hand selected by me for this new set.  I'm confident these 2 discs will help you influence others with greater impact, for greater organizational and personal results.
You can learn much more and order your copy here.