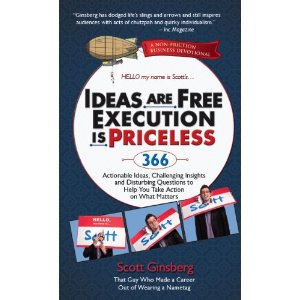 Today's Resource Recommendation is Ideas are Free, Execution is Priceless: 366 Actionable Ideas, Challenging Insights and Disturbing Questions to Help You Take Action on What Matters by Scott Ginsberg.
Scott Ginsberg is the Name Tag Guy – he's worn a nametag every day for I don't know how long (if you don't know Scott and his quirky, cool, smart work, check him out.
He's written a number books, most of which I own and have read. It's kinda hard to know if I've read them all, because he writes a lot, and gets a lot done. Which is the point of this book— it's not about ideas, it's about getting things done.
I haven't read this whole book either, which is also the point of this book; it is designed as a one-idea, one-thing-to-think about, one-kick-in-the-pants a day to help you take action, move forward and get stuff done on your ideas.
While you might think of this as a daily devotional of sorts, if you know Scott (or once you start reading him) you'll know that the writing, while it might help you reflect, isn't very devotional like. It is fun, challenging, entertaining, and spot on.
Take the title on the July 7 advice: Less Talkie, More Walkie.
Or October 28 (ok, I read ahead): Stupidity is the Best Mentor
Here's my recommendation, in short: if you are looking for something that can jar your thinking and prompt you to action on a regular (daily basis), buy and read this book.
Here is my recommendation, even shorter: Buy this book. Now.
Categories: Books, learning, leadership
Tags: ideas, execution, implementation, taking action