By Edgar H. Schein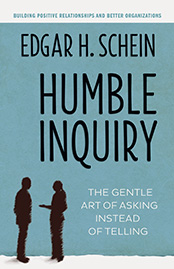 When one of my favorite management thinkers writes a new book, I am always curious – and Edgar Schein is on that short list for me. His book Process Consultation: Its Role in Organizational Development, played a big role in my development as a consultant, and his recent book Helping: How to Offer Give and Receive Help, is a practical book on a topic most wouldn't think to write or read about.
And when that new book is on a topic I am personally trying to get better at, curiosity becomes consumerism. So when Schein's new book Humble Inquiry became available (it's official release date is September 30), I bought my copy immediately.
Schein introduced the term humble inquiry in his book Helping, and here is his definition:
"Humble Inquiry is the fine art of drawing someone out, of asking questions to which you do not already know the answer, of building a relationship based on curiosity and interest in the other person."
If that definition doesn't leave you wanting to be better at this, there is no sense in reading this book. While the author does a fine job of describing the benefits for building this skill, if you don't get it, I'm not sure the book will help.
But if you do get it, if you do want to build more positive relationships, if you do want to lead more effectively, if you do want to truly create a participatory team, if you do want true engagement and greater levels of trust, then you must read this book.
The book is slim, easy to read and full of good examples. It describes the skills and the pitfalls, and even why it is so hard to move to a model of "asking rather than telling."
I know that I often say "this is an important book." Let me say it again – this is an important book. If you want to be a more effective leader, building this skill and understanding the subtleties that Schein exposes will help you in many parts of your role.
For the serious learning leader, I believe this is required reading.