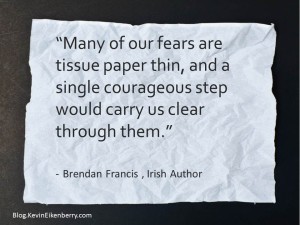 In my last Powerquotes-style blog post of the year, I am looking forward. Many of the challenges we all face in the coming year are challenges in part because of our fears. With that in mind, I felt today's quotation was important for all  of us – and I'm at the front of the line.
Consider the questions, actions, and thoughts below after pondering the application of today's quotation in your life.
Questions to Ponder
– What do I fear today?
– What single step could I take to test that fear?
– When will I take that step?
Action Steps
1. Identify the fear and a possible step.
2.  Take the step.
3.  See what happens!
My Thoughts
In the last few days, I have experienced quite a bit of tissue paper – both in the wrapping and unwrapping of gifts. Perhaps that is why this quotation struck me the way it did. It pretty effectively conceals what is on the other side of it (it's major purpose in the gift wrapping department), yet with a simple rip or poke, it is pretty easy to break through it.
As our quotation suggests, many of our fears are just like that – our fear blinds us just enough to conceal what is on the other side, and that fear holds us back. The beauty of this idea is that a "bold step" may be all we need to see that what the fear conceals may be false, or an inaccurate assumption.
My hope and challenge for you in the coming days (or right now) is that you consider the message of this post in your circumstances. Look forward, see a fear that is holding you back, and take a bold step.
I'll see you on the other side of the tissue paper.