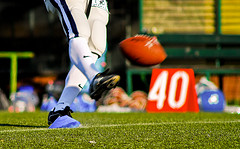 Welcome to the new NFL season. If you are a fan, you know how it feels. There is excitement and anticipation. You've been looking forward to this day for months.
Finally, football.
There is little doubt that the National Football League is the national pastime of our country. And while it is an enjoyable pastime, it can also be a massive productivity sucker.  Consider this:
There will be games on Thursdays, Sundays, Sunday nights, and Mondays for the next 17 weeks.  If you watched each night game and one game in each time slot on Sundays, that would equate to at least 15 hours/week, or 255 hours before the playoffs begin  (oh, and this doesn't count the special holiday games either).
And that doesn't count overtime, replays, highlights, discussing the games at the office, or checking on your pools and fantasy teams.
Perhaps you aren't that hard core and you don't watch all the available games, just your favorite team's games. Still, you are looking at nearly 50 hours between now and January – that is more than a full work week for most people.
Am I suggesting that you shouldn't watch any football?  No – in fact, I wouldn't want to follow that advice myself. I am suggesting that you recognize the games for what they are – an opportunity to choose and an opportunity to consider your priorities.
So how can you balance being a football fan and being productive for next 20+ weeks?
Pick your games.  Don't just turn on the TV automatically at game time as a habit. Make a conscious decision to watch, based on your particular interest in the game. If you don't have a particular rooting interest or reason to watch, why not do something else, for at least part of the game?
Use your DVR. Let's face it, games that have 60 minutes of playing time (and that includes a lot of huddling and walking around between plays) take three hours of clock time. Why not set the DVR and work on your goals or do some other important activity for the first 90 minutes of the game?  Then you can watch, remote in hand, not miss a single play, and still be caught up to live action before the exciting finish of the game.
Limit your fantasy time.  I'm not the person to write about this, since I don't play fantasy football. Why? Because I'm guessing how much I would enjoy it, and therefore, how much time I would spend on it!  If you are a fantasy player, keep your play in perspective. Allot yourself an amount of time per week to devote to it, and stay within that time.
Use games as a reward.  Do you have a major goal or project you want to complete between now, and say the end of the year? Tie your game watching to your progress on the goal/project. If you are meeting your planned timeline, or having even greater success, use some game watching as your reward and celebration. When seen in this way, your viewing will be even more rewarding.
These are just a few ways that you can balance your passion for football with your need for productivity. When kept in balance, you can be a big fan and a big success too.
And why wouldn't you want to be as successful as the teams you root for each week?