I put this slide on the screen yesterday, while giving a talk on hiring strategies for Choice Hotels International Convention. . .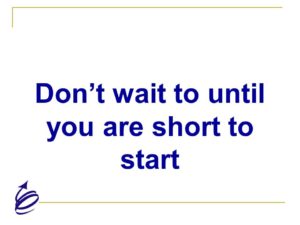 If you want to hire rock stars, you can't wait until you have an opening to start thinking about hiring.   Here's an exercise to do today to help you implement this idea.
Create a crystal clear, three-dimensional description of your perfect candidate for a given job.
Develop clear expectations of the perfect employee in that role.
Identify the skills needed to start (must haves) and the skills that need to be developed.
Describe the behaviors you want to see in this individual.
Make all the intangibles, tangible.
When you build this crystal clear picture, a picture so clear that it is obvious when you see the person – it makes the interviewing and selection process easier.  But that isn't the most important reason to do it.
The most powerful reason to do this is so that you can begin to attract your perfect employee before you need them.
Let's face it, clarity is attractive.  Your clarity will help you bring the right people into your world and that same clarity will help people decide for themselves if they are your person, or not.
If you need to hire today, take some time to do this exercise.   But if you don't need anyone today, invest in the exercise for the future.
Think better bait on the hook, not seeing what will be in the fishing net.
Think attraction, not advertising.
Because the time to think about hiring is long before you need someone.