By Jessica Hagy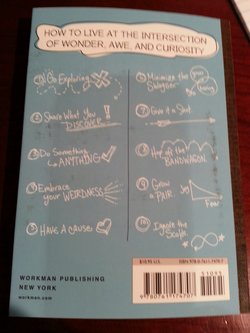 This is a cool book.   I don't know how else to describe it.
The back of the book (which unfortunately you can't see online, so here is a picture for you) is even cool.  Yep, the back promises "how to live at the intersection of wonder, awe, and curiosity."  Doesn't that sound like a pretty cool place to live?
The picture also outlines the "10 simple steps" promised in the title.  Here they are:
Go exploring
Share what you discover
Do something.  Anything.
Embrace your weirdness.
Have a cause.
Minimize the swagger.
Give it a shot.
Hop off the bandwagon.
Grow a pair.
Ignore the scolds.
As you can see the ten steps are fun, edgy and illustrated.
That phrase is my description of the whole book.
The advice is organized by step, and each one takes up two pages, about half of which is an illustration, that, well, illustrates the piece of advice (which is less than fifty words – sometimes far less).  The advice is, like the back cover, fun,  and edgy. And the illustrations are, while sometimes not perfectly connected (for me), interesting themselves. And trust me, I'm not throwing stones, because I couldn't have illustrated any better!
I've never seen a book quite like it – but I'm glad I have this one.  It isn't likely a book you will pick up and read cover to cover – in fact if you tried to, I think you would lose some of the value.
Buy a copy for yourself, enjoy it, and prepare to be thinking of people you want to buy copies for – it will make an amazing graduation gift!