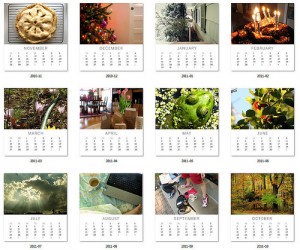 The "year in review" is a staple for the media this time of the year. Time Magazine will name its Person of the Year, Billboard will rank the top songs in every category, and every newspaper will list the top stories of the year. I've even recently read stories about the top Twitter trends, and top Facebook topics of the year (a quick Google search will give you these if you are interested).
The media produce these stories each year because they are easy to create, fill a typically slow news calendar, and perhaps mostly because we like to read and hear about them.
We love to look back on some things like our vacations, favorite pictures, and stories of the year, yet too few people reflect on, or review their year in a systematic way looking for clues and lessons learned. (Imagine what a skilled detective <insert your favorite, from Monk to Columbo to Sherlock Holmes> might learn by looking back on your year.)
Why is reflection and review so important?
It's simple really.
Unexamined behaviors will be repeated — they are called habits. And if we habitually take the same actions, we will get the same results.
I guess if your past year were perfect, there would be no reason to examine your actions and results . . . because you would want more of the same!
I'm guessing your reality, like mine, is a bit more mixed than that.
When we look back at our year, we can begin to see, with the benefit of perspective, how things went. We can consider what worked, and what didn't. With that insight, we can look at our behavior and make adjustments to change our future results.
Again, the same actions get the same results, and new actions will be required to get new results.
So now that you see the value in reviewing your year in a more intentional way, you may wonder exactly how to do it. What follows is my 3 step process for doing just that! What is the process? Reflect. Record. Rejoice.
Reflect
The reflect step may be the obvious one — after all, that's what I've been writing about. But how exactly do you do it?  Here are some questions to use to help you get started.
What did I accomplish this year?
What accomplishment am I most proud of?
Knowing what I know now, what would I do differently?
What are your most lasting memories of the year?
How did I contribute?
What were my biggest challenges or obstacles?
What did I overcome, and how?
Who are the most interesting people I have met, and why?
How have the people I met changed my life?
How am I different now?
What am I most grateful for?
What else do I want to reflect on?
And both first and last,
What did I learn this year?
This isn't a complete list, and you will add to this list naturally as you get started. (Hint, get started!)
Record
Thinking about those questions, and a host of others that will come to you, is great. But thinking is naturally fuzzy. If you want to get the most from your reflection, you must write down your answers.
You don't have to write them for others to read.
You don't have to spell correctly.
You don't even have to write in complete sentences.
You are recording your reflections for you and no one else.
You are recording them for two basic (and very important) reasons:
 To clarify your thoughts, to lock in the lessons and the learning.
 To be able to come back to those lessons later.
Where you write is less important than that you do write. But if you have thought about starting a journal in the past, now would be a perfect time to get one. Making your first entries your reflections from the past year will immediately make that a valuable book for you.
Rejoice
Chances are, you aren't thrilled with everything you have learned in your reflection. Am I saying you should rejoice in your mistakes, mishaps and missteps?
Yes.
After all, once you realize they are mistakes mishaps and mistakes, you can do something about them. Until then, you are doomed to simply repeat them!
Of course, not everything went wrong, so you should also rejoice at your successes.
Bigger than both of those sets of lessons in themselves though, the rejoice step is to rejoice in the process of reflection and learning. When you do this intentionally, you are setting yourself on a path of improved actions and better results.
If you want to review your year, using the Reflect, Record and Rejoice model will help you get started.  Once you get started, you will be hooked. And by consciously and intentionally looking at your past this way, your future will be brighter.
photo credit Lisa Clarke