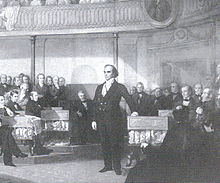 Today's quotation is in part about presentations, which I give many of and have the chance to give feedback and coaching on many others.  Whether you give presentations or not, or whether you take Mr. Webster's words literally or not, the point he makes is important and worth applying far beyond presentations.
"I would as soon appear before an audience half clothed as half prepared."
– Daniel Webster, Senator, lawyer, and U.S. Secretary of State
Questions to Ponder
How important is preparation to me?
How often do I feel under-prepared?
What could I do to improve my preparation habits?
Action Steps
1.  Reflect on situations where you were less prepared than you wished – and think about the results you achieved.
2.  Find a situation today where better preparation would help you, and prepare more thoroughly for it.
My Thoughts
Preparation is a habit of champions.   All of us have sat through presentations where it was clear the presenter wasn't really prepared – sometimes they even tell us that at the start!  But the need and value of preparation goes far beyond a presentation.  In the next week, you will have a chance to see ultimate preparation on display at the highest levels at the Olympics.  While you watch the festivities and the events, think about the role that preparation plays in the success not only of the events but of the athletes themselves.  You will see it in pre-event rituals, you will hear it in interviews, and you will read about it in the human interest stories about the winners.
If you want to be a better presenter, prepare more completely.
But really, if you want to be better at almost anything, prepare more thoroughly.  Develop this habit and you are developing the habit of champions.