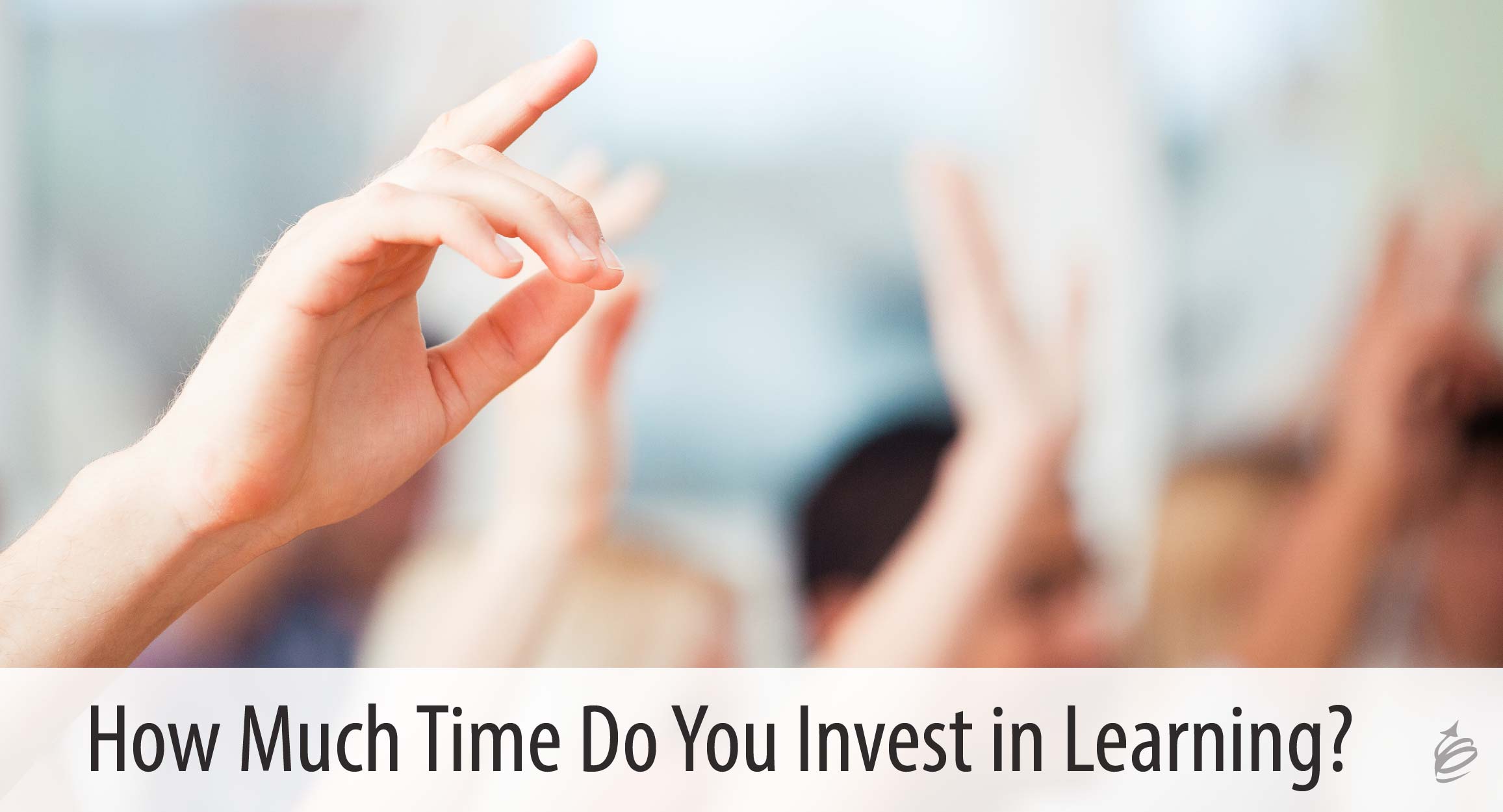 Investment. Usually that word leads us to think about our 401K account, or the capital budget at work. We think about investing money to gain returns over time. And yet, we less frequently equate investing with time – a resource more precious and limited than dollars. Like investing our money, we can invest our time in activities that will pay long-term dividends. One of the most powerful examples of time investment is investing in learning. Let me ask you this:
How much time are you investing in learning?
Building The Case
If you don't think there is anything you need or want to learn, there isn't much point in continuing to read. But if you need some fresh thinking here, or you know you want to be learning more, and "never seem to get around to it," maybe this can help.
If you don't learn anything new, how can you get better?
If you don't learn anything new, how can you prepare yourself for the next job, promotion or career adventure?
If you don't learn anything new, how will you become more confident in your current role?
If you are a leader, aren't there things you would like to be better at?
Since investments are long-term in perspective, and don't always have immediate returns, finding your reasons why will help you make the investments in learning that you want – and need to make.
Your Investment Plan
Investing in learning, like anything else worthwhile, will benefit from having a plan. You plan should include four main components:
What you want to learn. While you can always be open to learning anything that might help you in your life or work, like any investment plan, you need a target. Determine what skill you want to build now. Pick a time period where that will be your main learning focus. Depending on what the area is, I recommend from 1-6 months for the timing for a learning focus, before you might move on to another.
How you will learn it. There are many inputs that can aid you in learning – reading, listening, watching and trying should all be involved. Never in history has there been more content and material available to help. Your key is to find the right sources and the right mix of sources to help you on your path.
Who will help you. You won't reach important learning goals alone. You will need mentors and a coach. And likely you will need a source of content that you trust and that speaks to your needs to help you reach your learning goals.
Why this matters to you. This really comes first, which is why I already talked about it. Your why will be the driver to create your desire to learn and maintain your time and money investment in learning when the status quo pulls at you.
Doing it in the Real World
I know, this all sounds exciting, but investing in learning means you need to put this plan into action. Whatever time you plan to invest needs to be placed on your calendar, and it needs to become a part of your daily routine. Once you have the plan and have collected the resources, then you can begin to block time in your day to work on it. The amount of time each day may not be much, but doing something, and keeping your learning goals at the top of your mind are most important.
Otherwise emergencies and the daily crush of activities will leave your plan as useful as a crumpled piece of paper in the trash can.
Remember you are investing in learning as an investment in yourself. Invest steadily and in small amounts and you will reap great rewards.
We are passionate about learning and helping people learn and apply skills in the real world. That's a major reason I began The Remarkable Way. We enroll four times each year for this one-of-a-kind group. You can find out here if enrollment for The Way is open and register. If not, just leave your contact information and we'll let you know when the next enrollment period arrives.