Leaders? Use Pinterest?
Isn't Pinterest the hot new social media tool that is growing by leaps and bounds?
Yes.
Isn't this the site that seems to be largely about recipes, crafts and wedding planning?
Not entirely.
Are you talking about how leaders of business could use Pinterest in their marketing efforts?
No, though that is a possibility.
How, then, can I as a leader in any organization use Pinterest to be a more effective leader?
I'm glad you asked. That is what is article is about!
The Context
As a leader, you likely have many goals and objectives. Here is a (very) short list of some things likely on your list.
You'd like to build relationships and a deeper connection with your team or organization.
You'd like to communicate more effectively.
You'd like to share things you are learning and reading, but you don't have time to write more emails (or start a blog).
You'd like to intentionally build the culture of your organization.
You'd like your team/organization to see you as a bit more human and approachable.
You'd like to have some fun in the workplace sometimes!
Pinterest can help you reach any or all of these goals.
What is Pinterest?
Wikipedia says that Pinterest is:
"a pinboard-style social photo sharing website that allows users to create and manage theme-based image collections such as events, interests, hobbies and more. Users can browse other pinboards for inspiration,'re-pin' images to their own collections and/or 'like' photos. Pinterest's mission is to "connect everyone in the world through the 'things' they find interesting via a global platform of inspiration and idea sharing."
I say it is like a set of online bulletin boards, where instead of pinning up pieces of paper we pin up images. In the case of a real bulletin board you must find something to post and then post it. In the world of Pinterest, you can post your own images, images from webpages, or you can easily "re-pin" things other people have posted to their boards.
How You Could Use Pinterest
Given the goals listed above, here are just a few of the boards you could create to help you reach those goals.
Books you recommend
Blog posts to read (rather than writing a blog, you can quickly share with your team this way)
Customer information
Customer success stories
 Sayings or Quotations
Your hobbies
Your favorite places
About competitors
About the marketplace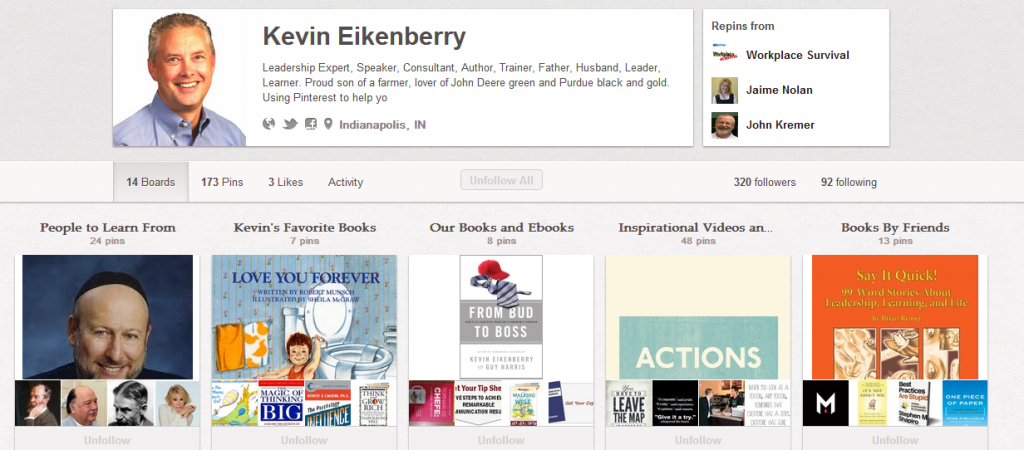 The beautiful thing about Pinterest is you can create a board on any topic and for any purpose that you like. Take mine as a starting point, but build based on your specific goals, and I'd suggest you start with 2-5 boards.
First Steps
Here are the first four steps I recommend to you as a leader getting started.
Go to the site and play around for a few minutes. You can see how I am using Pinterest by looking at my boards, and you can request an invite to get your own account. (If you wish, email me, and we will send you an invite as well).
 Once you have you received your invitation to set up an account, you can quickly get started. Using your observations from moving around within the system a bit, and the goals you have identified for trying it out, identify the boards you want to create and you are on your way!
From their site, download the little app that makes it easy to pin things while you browse the web. This is the fastest and easiest way to populate your boards. As a leader, I know you are busy, and even if you are inclined to try this idea, you want it to be easy and fast – this app downloaded to your browser is the key to speed and ease.
Once you have created a few pins (once you have your profile set up and your boards determined you can get to this point fast), let your team or organization know where they can find your boards. Until you share them with others, none of the benefits we've discussed can be gained.
Pinterest is new and isn't, to my knowledge, being used in this way by leaders yet. My goal today was to give you something to think about, expand your perspective, and perhaps encourage you to give this a try. If you do, let me know; email me and tell me how you are using Pinterest!