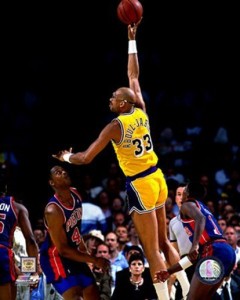 In the middle of the NBA playoffs, I found a great quotation from one of the greatest NBA players of all time.   He's talking about basketball players, but he is really talking to all of us.
Read it for yourself.  Read it as a leader.  Read it as a parent. Read it as a citizen. Go ahead, it's only two sentences long.
"It's hard for young players to see the big picture. They just see three or four years down the road."
– Kareem Abdul-Jabbar, Hall of Fame basketball player
Questions to Ponder
How far ahead do I see?
In what part of life does this quotation have the most meaning for me?
How can I see a bigger picture?
Action Steps
Take time today to get out of your mental routine.
Think about the future – further out than you usually do –  and then focus back to today, making sure that your current actions will get you to the future you desire.
Ask someone you trust to help you see the bigger picture of the future too. Their perspective can be useful for you.
If appropriate, help others see a better future  – one they might not see for themselves.
My Thoughts
It seems useful to think more about the future, because that is where we are heading.  Yes, we need to live in the present and choose to be happy and successful now. Yet without the perspective of the future, we won't make the best choices or guide our present most effectively.
I can envision Jabbar saying these words later in his career; in a caring way.   While he was never a coach of a team, he was a leader of his peers.  In whichever life role you choose to think about his words, there comes an implied imperative to help others get the bigger picture so they will make better choices and decisions today.   As a leader this makes sense, as a parent it makes sense.  As an individual, thinking about this makes sense as well.
Spend a little more time thinking in the future today.  Help others do the same.  It will be time well spent.