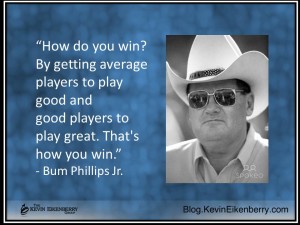 It's about the middle of the pro football season, and last week the NFL lost a long-time, colorful, and beloved coach – Bum Phillips. Phillips was known for wearing his cowboy hat on the sidelines and for being very quotable. Today's quotation may be his best – and it applies to all leaders. Read it, ponder it, and then apply it in your situation.
Questions to Ponder
– What kind of players do you have on your team?
– Do you believe in their ability to win?
– How can you help them win their game?
Action Steps
1. Focus on raising the skills and confidence of your existing team.
2. Show them you believe in them.
3. Give them more (and better) chances to win.
My Thoughts
Here is what I love about this quotation – it starts with the team you have. The underlying belief that Bum brings to this idea is that you can win with the team you have. When you believe that, you improve the team's chances of winning. So rather than only looking to upgrade your team, start with the team you have, help them improve, and let them see that belief that you have in them.