We need to talk about you and the success of your team.
Part of that success comes from the level of commitment your team members have to the collective work. This isn't news or rocket science. If you are reading these words, you understand that fact, and likely also recognize your role, as a leader, to nurture commitment among your team members.
This blog (and many others) exists, and trainers and consultants (like me) exist in part to provide you with tools, ideas, and insights, to build that commitment. But beyond the techniques and approaches you can use with your team, there is a harsh reality.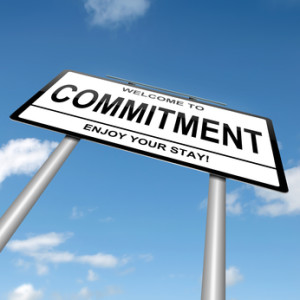 The level of commitment that your team has to each other and the team itself starts with you.
So let me ask you . . .
How committed are you?
Does the team see you as a part of the team, separate, yet equally committed to their success?
If you want a team that is committed to the goals, vision, and purpose that caused the creation of the team in the first place (whether for a project or an ongoing business purpose), they need to see your personal commitment.
In order for this to happen, two things must take place.
You must actually be committed.
Others must see and recognize that commitment.
So how committed are you?  Are you willing to put in the hours, make the tough calls, and do the things that you are asking/expecting of your team? It's not enough that you have done it in the past; telling people your "walking to school uphill both ways" story won't work with them any more than it works on your children.
Do you believe in the mission and value of your team?
Do you believe in their potential to be successful?
How much does that success matter to you?
If so, what is the foundation of your answers?
Having clear answers to these questions is critical, but even that isn't enough.
Because perception is reality. So even if by every honest measure your answers to the previous questions are a resounding yes, if the team doesn't see it, or believe it, it isn't enough.
The good news is that if you truly are committed, it will be much easier to manage perceptions – people generally have pretty good B.S. meters. But you have some real work to do if you haven't shown your commitment in the past, or if your reputation in this area is less-than-stellar, or if past leaders haven't been seen as committed – you may be living with their legacy.
Make sure you are committed to your team, and make sure, in small and large ways, that the team sees it – and you are on your way to greater team commitment and success.
……
One way to show your commitment through your actions is to continually build your own leadership skills!  To help us celebrate 20 years in business, we have created a 20  day adventure we call 20 Days to Remarkable Leadership – take a look and join us here.