One of the roles of a leader is to provide the perspective that the rest of the team or organization might not see.  It is easy to get caught up in the daily to-do list, the quarterly objectives and the rhythm of the calendar, and lose sight of the bigger picture, the larger goals, the purpose and direction of your team or organization.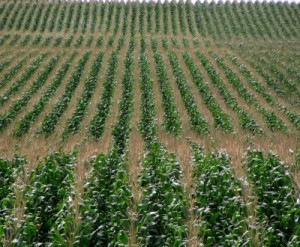 When my dad taught me how to plant straight corn rows (a point of pride and proof of your skill), he taught me to look far into the distance in order to keep the rows straight.  Before the days of the GPS-enabled tractor, you couldn't plant straight with a short-term view.
Perhaps you have a similar lesson in your head about driving a car:  you can't drive consistently and safely  in your lane if you are just looking at hood ornament – you must look further to be safe.   
The larger lesson? 
In order to do your present work well, you must be looking farther into the future than might immediately seem necessary.
Effective leaders provide this bigger picture and the longer view, because  it is both important and if they don't provide it, likely no one else will either.
Bill Gates in his book The Road Ahead, said "We always overestimate the change that will occur in the next two years and underestimate the change that will occur in the next 10."
Leaders are those who keep this perspective in their hearts and minds, and share it with those they lead.
I was reminded of this recently when reading about a project, funded at least in part by Amazon founder Jeff Bezos (also famous for taking and running his business with a long view) that is building a clock, to be buried in West Texas mountain that will run for the next 10,000 years.
Here is the first paragraph of the website describing the project:
There is a Clock ringing deep inside a mountain. It is a huge Clock, hundreds of feet tall, designed to tick for 10,000 years. Every once in a while the bells of this buried Clock play a melody. Each time the chimes ring, it's a melody the Clock has never played before. The Clock's chimes have been programmed to not repeat themselves for 10,000 years. Most times the Clock rings when a visitor has wound it, but the Clock hoards energy from a different source and occasionally it will ring itself when no one  is around to hear it. It's anyone's guess how many beautiful songs will never be heard over the Clock's 10 millennial lifespan.
A long term, big picture view, to be sure.
Perhaps you don't need a 10,000 year view to be a successful leader in your world. Rather than dismissing this project as crazy, consider the lessons in these questions:
How long is your view, how big is your picture?
When you think about your future, and the future of your business and team, are you thinking 1, 2, 5, 10 or more years out?
If you changed your perspective, how might it change the decisions you are making today, the direction you are heading and the things you are communicating?