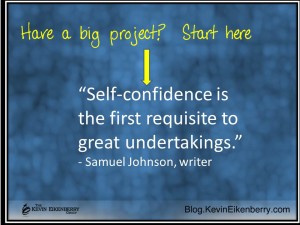 There is much written about (and worth learning about) project planning and goal achievement. You can learn many strategies and approaches to help your projects be successful and your goals be reached. Seldom is today's starting point discussed. Yet rightly, this starting point will make all of the tactics, tools, and approaches work better. In other words, if you have something big to achieve, start here.
Questions to Ponder
– What is the biggest goal or project in front of me?
– How confident am I about my ability to succeed in this endeavor?
– What could I do to raise my confidence today?
Action Steps
1.  Take the steps below to help you raise your self-confidence, and therefore raise your odds of ultimate success.
2.  Review past successes. Look for clues to when you have been successful in similar situations.
3.  Find small wins. Few things do more for our confidence than making progress.
4.  Step out with quiet confidence. Even if you don't feel it yet, the action will help create the feeling.
My Thoughts  
Self-confidence.
Overlooked and under valued.
Seen as a soft, squishy, intangible thing.
Yet, Johnson is right. If you want to improve the prospects for any undertaking, start by building your confidence. This applies for us individually, but applies to teams as well. One of the leader's most important jobs is to raise the confidence of their team – both at the start of a project, and through encouragement throughout the project.
Like so many things I write here, you already know this. My job is to remind you. Your challenge is to take action.
I'm confident you can do it. Are you?
Note – If you want your projects to be more effective and the goals you set to be reached more predictably, join me on December 2 for The Goal-Setting Leader: Remarkable Solutions to Help Your Team Set and Achieve Goals. Learn more and register here. I look forward to "seeing" you there!