By Phil Robertson with Mark Schlabach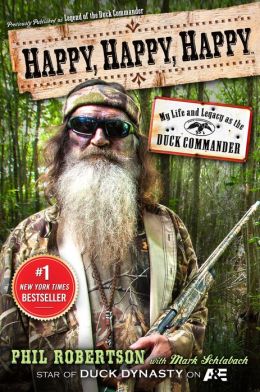 For the uninitiated, Happy, Happy, Happy is a favorite phrase and life motto of Phil Robertson, creator of the most popular and famous duck calls on the planet. Phil is also the patriarch of a family that stars in the most popular show on the A&E cable network.
The show is Duck Dynasty, and if all you know about it is beards and guns, you are missing the (major) point.
This is a fast reading book about a man who overcame significant life challenges (and his own issues) to create a very successful business and family. If you believe in reading for inspiration in the success of others and looking for clues to their success, that makes this book worth reading in and of itself.
If you are a student of marketing, reading the book from that perspective will be interesting (especially the second half), as Phil talks about the birth and growth of the business.
There are leadership lessons throughout the book – both things to do, and things not to. I was particularly drawn to the discussions of how he engaged his young children in the business – and how many of them remain a part of the business today. Also, while you may not agree with his faith, the critical role of spiritual life in the foundation and growth of his company (and family) is well documented and worth studying.
"Study" might be a strong word for this book, but I use it intentionally. This book is a fun and easy read, yet there are many lessons here if you choose to find them.
Lastly, if you watch the show, or want to know what it is all about, you will enjoy this book. As an admitted fan of the show, my enjoyment of it is deepened having read this book.
If you aren't a fan of long hair, long beards and camouflage, you definitely don't want to judge this book, or this man, by the cover. Great literature it is not. Great fun and great lessons, however are there.
Read this book and you will see why Phil is Happy, Happy, Happy. And you might find reasons to be more so yourself too.