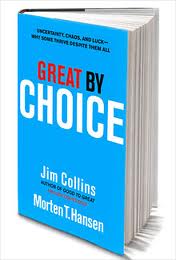 Today's Resource Recommendation is Great by Choice by Jim Collins and Morten T. Hansen
If you have read Jim's previous mega-bestsellers, Built to Last and Good to Great, you know the formula.  If haven't, know that the premise for this book was reached through extensive research.
The research in this book is so extensive (a major strength) that the data researched ends in 2002 (a bit of a disappointment).  I found myself often reminding myself of that 9 year gap as a read – because the fortunes and trajectories of many of the companies researched have changed drastically since 2002 (can you say Apple?)
The research of the book is focused around this instructive point: "Why do some companies thrive in uncertainty, even chaos, and others do not?"
The book identifies the characteristics by comparing the exemplary companies (called 10xers) to a peer in the same industry that didn't thrive during the period of the study.
The four key factors found in the research are:
Fanatic discipline
Empirical creativity
Productive paranoia
Level 5 Ambition
No, I'm not going to explain them to you in depth – that is what the book is for!
Like Jim's other work, this book is well written with great stories and insights, but is very light on how do we create these characteristics in ourselves and our organizations.  That doesn't change the fact that this is a valuable book. Beyond the impeccable results and high readability factor, the book will be a huge seller and therefore worth reading so you can engage in the conversations that the book will likely create.