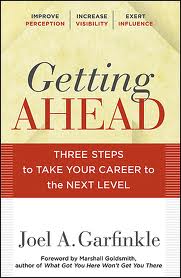 Today's Resource Recommendation is Getting Ahead: Three Steps to Take Your Career to the Next Level by Joel A. Garfinkle.
The title of this book tells you clearly this is a career management book. The title promises that it contains ideas that will help you "take your career to the next level."
This book focuses on the author's PVI model, which encourages the reader to leverage three specific areas: perception, visibility, and influence.
As a career management book, I believe it is excellent, however, I believe it can be more than. You might want to consciously build your skills to help you get a new assignment or a promotion, yet along the way, the building of those skills will help you be better in your current role – leading more effectively, helping your team (and yourself) be more productive and so much more.
I recently had a phone conversation with the author before I had finished the book. I told him I was looking forward to the section on influence (it is the third major section in the book). At the time, I wondered if he thought I was disrespecting the other two sections (that wasn't my intention at all). Rather, I looked forward to the influence section, because if you are reading this book from the perspective of being more effective as a leader (whether you want a promotion or not), the skills of influence are important.
This section of the book delivers – especially the five ways to be influential (page 202). This is just one example of how the book takes ideas you are likely familiar with but provides context, examples and action steps to help you apply what you are learning and perhaps in some cases are being reminded of.
Overall this book is highly readable and offers practical ideas. Whether you are reading it for career management purposes or as a straight leadership development book, it delivers. Either way, it is a worthy addition to your reading list.