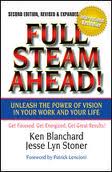 This week's Resource Recommendation is Full Steam Ahead!  Unleash the Power of Vision in Your Work and Your Life by Ken Blanchard and Jesse Lyn Stoner.
Here's a promising recipe for a book you'll like.
Take a bestselling author (Blanchard) and pair him with a talented, smart and world-wise co-author (Stoner).
Make the book a second edition of book that was a bestseller, published in 22 languages.
Let the new book simmer over several years, and then have the new book be more than superficially changed – and those changes reflect the collective learning of the authors in the time since the first edition.
Make the book on a topic that is important to any leader – vision – and make the book practical, readable, and memorable.
If you follow that recipe you will have the second, revised and expanded version of Full Steam Ahead!
I have been an unabashed Blanchard fan for many years, and am currently a huge Jesse Stoner fan.   I was fortunate enough to talk with her about this new version of the book recently from my office at Remarkable House.  Her passion for her work is contagious.  Her knowledge of creating compelling vision, from her work in real organizations for a long time, makes this book far more than another business parable.
This book has concrete advice, great examples, and specifics to help you create and communicate your vision.   I especially like the book's focus on both the content of the vision and the process of creating and communicating it.  I have found this way of looking at vision very helpful in my own work with Clients as well.
I highly recommend this very readable book on a very important topic.  While I didn't read the first edition, my understanding is that it is significantly expanded, so make sure you get the Second Edition!