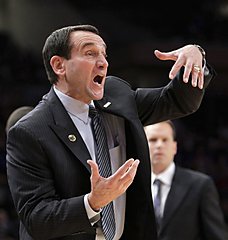 Last night, Duke University's men's basketball coach Mike Krzyzewski won his 903rd game. It's the most of any men's college basketball coach ever (Tennessee's Pat Summitt has over 1000 wins coaching women's college basketball).
He's been coaching for 37 years. He's won 13 Atlantic Coast Conference Championships, was named  National Coach of the Year 12 times, won four national championships, and coached a Gold Medal-winning Olympic team.
You don't have to know much, or care much about basketball or sports, to know that he's pretty good at what he does.
I've admired Coach K for many years, as both a college basketball fan and a leader. As I watched part of his team's record-setting game last night, these leadership lessons became clear to me.
There are many other leadership lessons you could find, and, if you are a basketball fan, I encourage you to find your own. Here are some to start with.
Family. 30 of his former players were in the stands at Madison Square Garden last night in anticipation of his record-breaking win. After the game, Coach K talked about the Duke basketball family, and how all of those players were an important part of the record. In what ways do you view your team as family?
Other focus. When the game concluded, he was given the game ball and a reporter asked him where he would put it.  His answer is very telling:  "This ball will go in our Duke Basketball Hall of Fame.  Something like this belongs to the team and the program." The coach realizes that the efforts of the leader aren't about him, but are about others.  Notice, too, his use of the word "our" Hall of Fame. Not "the" Hall, "our" Hall.  It's a subtle, but telling, message about family and shared ownership. The best leaders know that leadership success isn't about them – it is about others.  Where is your focus most of the time?
Consistency of principles. No leader with the long-term success enjoyed by Coach K gets there without strong and clearly articulated principles. Beyond basketball principles, the Coach is well-known for his values, overall approach to the game, and desire to use basketball to mold men, not just win games.  Are your principles and values clear and do you live them every day?
Flexibility in execution. Watch tape of Duke teams over the last 30 years, and you will see significant differences in playing style and approach. Yes, some of those changes are necessitated by rule changes (the 3 point line for example), but most are differences due to the talents and skills of his teams. When he has more great shooters, they execute differently than when they have stronger inside players, for example. Great leaders live their principles, but execute based on conditions, situations, and the strengths of their team members.  How flexible are you in your approach?
I hope these lessons and questions give you food for thought as you lead today – and every day.
photo by AP