By Martin E.P. Seligman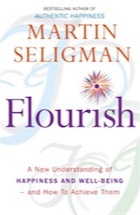 I had some truly great professors in college. And, in the many years since I was at Purdue, I've met, and read a number of professors from whom I would love to take a class.  The author of this book, Dr. Seligman, is one of those people.
Dr. Seligman is the father of positive psychology and his first two books, Learned Optimism and Authentic Happiness are best-sellers and favorites of mine.  This book however is the best of them all.  Here is how the book opens, in the Preface…
This book will help you flourish.
There I have finally said it.
I have spent my professional life avoiding unguarded promises like this one.  I am a research scientist and a conservative one at that. . .
Talk about getting your attention.
In the book, Dr. Seligman talks openly about what he has learned since the publishing of Authentic Happiness in 2002 and what he thinks is wrong, or incomplete, about that book.
So we have a smart guy, a research guy, making bold claims and talking about what was missing in his earlier work – and the topic of all of it is about how we – you and me – can have greater levels of well-being in our lives.
Then…
The book delivers.
I could give you some of the answers, but that would take away from your joy of discovery – some will make you nod in agreement, other things might be new for you.  All of it applies to you personally, and if read through a leadership filter, it will give you great ideas and insights into employee satisfaction, engagement, commitment and loyalty.
I hope you can tell how valuable I think this book is.
It is.
If you want to flourish in life, read it.