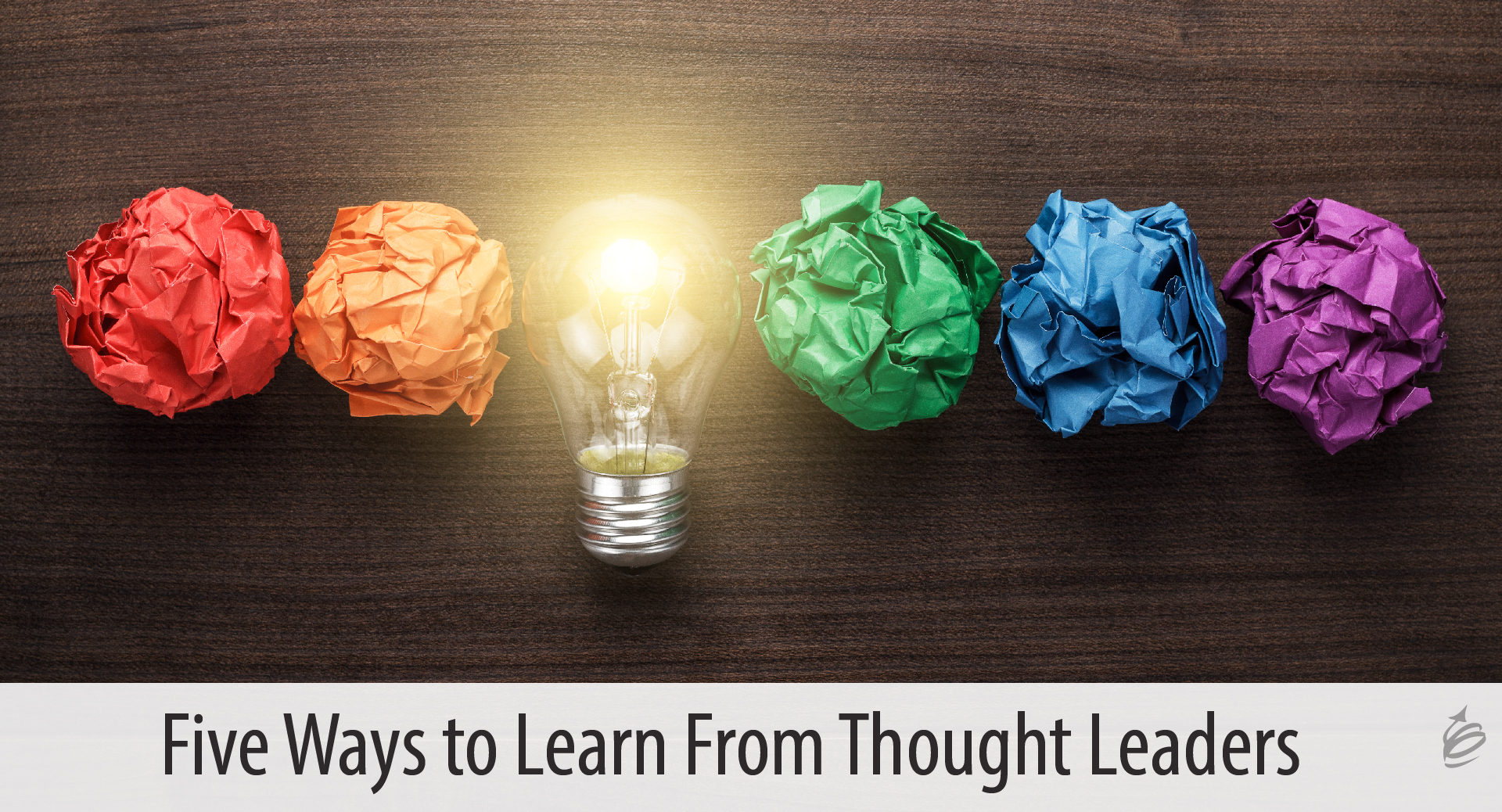 If you are interested in growing as a leader, professional and/or human, you know that learning from thought leaders and experts is an important strategy. But it is one thing to know and say that, and another to actually do it. Here are five specific strategies that can help you grow faster and learn more from experts and thought leaders. I'll share the strategies, how to use them best, and the limitations too.
Read their books.  Seeing someone's book might be how you first became aware of a thought leader.  And in at least some ways we could define someone as a thought leader because they have written a book or books. This makes reading their published, carefully prepared and vetted research, insights and ideas an obvious and useful way to learn from them.  But it far from the only way …
Follow them on social media. Most living thought leaders have some sort of social media presence.  Following (and even engaging with them) is a great way to learn their latest thinking and get to know their perspectives and personality beyond their edited and formalized work.   Regardless of your feelings about or how active you are on social media in general, this is a great way for learning from thought leaders.
Watch/listen to recordings of them.  One of the great gifts of the internet is the ability to watch speeches, presentations, and trainings from thought leaders.  Whether this is by investing for access, (which is usually the best way to get access to their best work) or finding their free content (search for your favorite thought leaders on YouTube and you might be thrilled at what you find.), this is great way of learning from thought leaders.  Additionally, the work of some thought leaders who have passed is available too.  While it is still a one way medium, I highly encourage this rich way to learn.
Attend conferences. Whether virtual or face to face, conferences have long been a great way of learning from thought leaders (and other participants too). Follow your favorites and find out where/when they will be speaking! While there is something about a live moment of learning, and it might give you access to someone's latest thinking, it is very much a one-way learning opportunity.
Have a conversation with them. If you can find an opportunity to interact with your favorite, prepare the questions you would like to ask.  Don't be star-struck or tongue tied.  Think now about what you would want to ask them.  You never know when you might meet them. If you don't want to rely on fate, engage with them on social media, send them an email, and offer ways to help them.  If you lead with "I'm a big fan" you might get gratitude but might not get any of their time.  Rather, if you offer to help them, forward their cause, or help with their research, you never know what might happen.
I endorse, recommend and have employed each of these strategies. Beyond that we have created a way for you to apply all of them with 40 thoughts leaders. If you want a more intimate, more immediate, more impactful way to learn from and with thought leaders, join us for Virtual LeaderCon 2021!  Learn the latest insights, information and ideas from 40 true thought leaders in leadership, personal and professional development over 5 days in all live sessions. Since the sessions are live and interactive you can ask your questions and get connected with these experts in real time. Both fully free (access to everything live) and paid (recordings and lifetime access) options are available.  Details, schedule, a list of the thought leaders and registration information can all be found here.