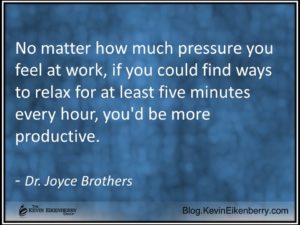 You've been busy, you've been stressed, and you've felt pressure. Maybe even today. Today's quotation tells you what to do when you are next in that situation.
I totally love and agree with this quotation from Dr. Joyce Brothers. So let's get on with some Questions and Action Steps
Questions to Ponder
– How often do I consciously make time to relax when I am under pressure?
– When/if I have done this, what have been the results?
– What might my five minutes of relaxation look like?
Action Steps
1.  Decide now what your five minute relaxation plan will be in different situations and environments.
2.  Practice it when the pressure isn't on.
3.  Resolve now that the next time you need to, you will take that five minutes!
My Thoughts
Go slow to go fast. When I read this quotation, that is what I think of. We don't have time to plan, but have time to do it over when it is wrong. To do our best at work, we must be at our best. Never is this more true than when there is pressure and added stress. While this quotation makes sense to all of us intuitively,  most of us don't act on it. In the years since Dr. Brothers said it, scientific research confirms it's validity.
The next time you are under pressure, make/invest time in renewing and refreshing.  That time will help you refocus, re-engage, and ultimately, be more successful.