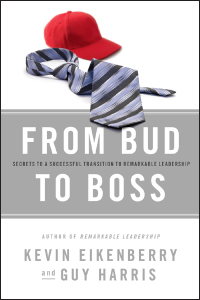 If you are a long time reader of this blog and my other work, you probably know that my new book, From Bud to Boss: Secrets to a Successful Transitions to Remarkable Leadership, co-authored by Guy Harris, comes out soon.
Actually the official pub date is February 15th (though it is availabe now at your favorite online bookstore).  Don't order yet – and I will tell you why at the bottom of the post.
We have invested a significant amount of time, energy, and dollars into helping people find out about and buy this book.    In this effort there are clearly leadership lessons for me.   I thought sharing them a few days before the launch might be instructive – both to me – and hopefully you.
It's about relationships.  We could never have gathered the amazing group of authors, bloggers, media  people and other experts (over 155 and growing) who are helping us without some existing relationships.   More importantly, we started the conversation to build relationships, not just ask for help.   With the long view, I am sure the relationships will be far more meaningful, valuable (and yes, even profitable) than the help people are providing now. When you need help, resources or other input, do you lead with relationship or a simple request? 
You need a (flexible) plan.  I have done these sorts of campaigns in the past, and so we had a basic plan.  And we built plans for these events, starting over 6 months ago, with daily earnest effort happening for at least 2.5 months.  We had a plan then and we have one now.  And it is adjusting, growing and morphing almost daily (hourly?).   Everyone knows they need to build a plan, whether they do or not.  The question is, once you build your plan are you able to adapt, change and improve the plan to better meet your goals?
Smart work is better than hard work.  Yeah, we all know that.  While smart work is better than hard work, any project worth doing or goal worth attempting – the ones that will really make a difference, require both. Both have benefited us and been necessary on this launch (and since it isn't Tuesday yet, we still have more of both to go!) Are you, by example, and your team willing to work both hard and smart to achieve your most important outcomes?
You need the right team.  I am fortunate to have the right team.  We may not have a big enough team (see the previous point about work), and we aren't alone in being resource limited.   Being a bit resource limited isn't all bad either – it helps you work smarter and, well led, can build team unity and resolve.  Working on big and important projects show us in big ways how important our team is.  Do you have the right people, and the right number of people on your team?
Build projects on the back of purpose.  Everyone on my team knows why we are doing this launch.  It is completely connected to our purpose at The Kevin Eikenberry Group – to help more leaders make a bigger positive difference for themselves, their organizations and the world.  If we help more people learn about and decide to buy books, we know that moves us in the direction of our big why, our purpose.   Are you connecting your work to a big purpose?  Can your team see the connection?
None of these lessons are novel or new.  However, when you apply them to our everyday life as a leader, they will make a significant positive impact on your work.
I hope you take these lessons to heart, and I hope you will buy a copy (or copies) of the book on 2/15.  Waiting until then will give you access to some amazing bonuses.   If you want to make sure you know all about the details that morning, sign up for my newsletter here.