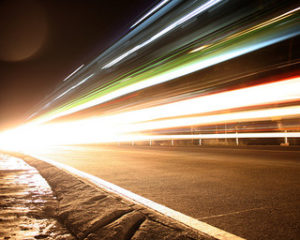 For hundreds of years, people have felt the world was changing faster and faster. You can find writing from two hundred years ago lamenting the rate of change that you would believe was written yesterday, yet with the perspective of history, there is no question that the rate of change today, in nearly any category, is greater than it has ever been before.
Using information as our example, since it impacts nearly every other part of our life, consider these facts:
More information is created and published in one week today than was published in total up to 1800.
The amount of information available in the world doubles . . . every 6 months (and that rate is increasing).
There is more information in one Sunday edition of the New York Times than a person in 1800 needed for a lifetime.
I could pick any industry or segment of life and find similar types of facts (and you could too).  It really doesn't take much for us to see how fast things change all around us.
While all this change may seem daunting and cause you frustrations or stress, the reality is if we want to succeed, we must learn to do more than just "live with" or "deal with" change – we must learn to understand and master it.  The full-on task of learning to understand and master change is a much larger topic than can be addressed here, yet there are five key ideas that will help you when you apply them.
The Five Keys
Think Why.  Ask yourself (or those initiating the change) why this change is taking place.  Is the goal or outcome of the change something that will be valuable to you, your organization or others?  Often we get lost in how we will be immediately impacted and lose sight of the reasons behind or ultimate benefits of the change.  If you understand and agree with the why, your ability to navigate change will be greatly increased.
Think Long Term. Similar to reminding yourself of why a change is taking place, thinking about the outcomes of the change rather than the immediate impacts will help you be more successful.  When the natural resistance to a change stymies you or those you are leading, lift your head a bit and think about the bigger picture and the longer term.  The longer view will be more helpful, the more frustrated and stressed you feel.
Think Short Term. When the tasks and feeling related to a change seem overwhelming, do what your parents taught you; focus on one thing at a time. Decide what your next step is.  Focus on one thing you can do to move forward.   While the long view is necessary and can help, we also must take a step forward.  Thinking short term can help make that next step easier.
Think Same. Often when we face a change we think about everything that is changing.  Yet, while much is changing in many cases, there is much that isn't changing too.  Some of the stability may be in other parts of our jobs or lives, but when we realize that while much is changing, not everything is changing, it can help us see things more clearly.
Think Principles. Circumstances, locations, and technologies might change.   But human nature and underlying principles do not.   When change is swirling around you, take time to find and apply timeless principles of success to your change situation. Then recognize that human nature is more stable over time than we might think.  Recognizing these human tendencies in ourselves and others will help us be more successful.  In doing these things, not only will you find a new perspective, you will find time-tested ideas for what steps to take next.
Whether as a leader responsible for implementing change or a just as an individual looking at all of the change that comes at us regularly, these five keys will help you be more successful with the change you will inevitably face.   Taken in total, these five suggestions will help provide you with a new and broader perspective in which to place any change within the context of your life.