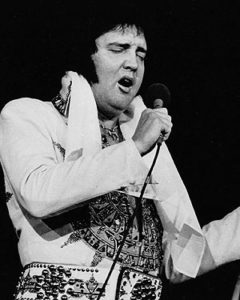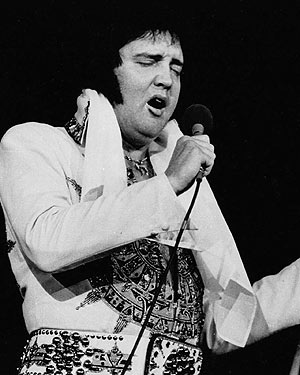 Elvis?
You've got to be kidding.
What could be learned about influence and persuasion from The King of Rock and Roll?  Plenty, it turns out.
On May 5th, the Associated Press reported that for the first time since 1955, Elvis was not one of the 1000 most popular names for newborns in the United States.  Apparently, the Social Security Administration keeps track of such things, and people have been naming babies Elvis in significant numbers in the United States for 55 years.  Think about it this way – that is 13 years longer than Elvis himself even lived!
Names in the popular press and the public eye often become popular names for a short time, but to have the staying power of 55 years warrants thinking a bit deeper.  After all, parents often spend a long time thinking about what to name their children.  Why was the name so popular for so long?
Of course, Elvis could sing well (duh) – but his voice alone didn't influence parents to use his name in large numbers for 55 years.  And if it were just about his voice there would be no reason for me to write about it either.  But reading this interesting fact got me thinking about Elvis and the lessons we as leaders, persuaders, and influencers can take from his life to help us learn more about influence.
Be yourself.  Those who are most influential make it easier on themselves by being themselves.  People are attracted to people who are real, genuine and authentic. By many expert accounts Elvis created rockabilly music. How? By bringing together his own musical tastes and backgrounds – gospel, the blues, country and more. Elvis created something new by being himself. If you want people to be attracted to you and your ideas, be willing to be yourself. Recognize that doesn't mean you have to be perfect, just real. Put your ideas and vision out in the world – allow your uniqueness to be a part of your influence.
Be passionate. Yes, Elvis sang with passion, but the lesson is bigger than that. Elvis was passionate about many things, including close friends and his family. He had a clear vision for many parts of his life and took action on that passion. When you think of people who inspire or influence you, are they operating solely in the logical reality, or do they bring their passion and emotion to the conversation? Where is your passion? Are you allowing it to show through in your work?

Live your values. By all accounts, Elvis Presley loved gospel music. He recorded it throughout his life (selling several million gospel records), and sang with many gospel groups on and off stage. Do rock and roll superstars record gospel? Can you imagine what many would have advised him to do (or in this case, not to do)? Elvis lived those values. Whether you share them or not, you will recognize how powerful that can be.  Remember that influence is in part about creating an attractive force towards you.  When you live your values you are attractive. What do you stand for? Do people know? Can they tell by more than your words? When you connect your vision and your goals to your values, your ability to inspire and influence increases.
Take risks. Gospel was likely a risk. Going off the concert tour to do a movie very early in his career was a risk. Not performing concerts at all for several years, a risk. Going back on tour after so many years off, another risk. I could go on but my point is made. What risks are you willing to take?  If you want to influence people towards something that will benefit them, even if they don't see it now, what are you willing to do to help them see it? Are you willing to be focused enough on them to take risks that might seem, well, risky? If you want to be a powerful influencer of others, you must be willing to take risks.
Embrace those who embrace you. I'm not talking about how or who Elvis may have hugged. Do any reading about his life and you will find as many critics of his performances, music and movies as you will fans. To be influential doesn't mean everyone will agree with you or see your vision (or even like you). In fact if you are trying to do something new, bold or different, not everyone will like you or your ideas. Get over it. Taking the first four lessons into account makes this one more important. If you are being authentic, being passionate, and living your values, the risks you take may lead to controversy. No one is universally accepted, and you don't have to be to be influential.  Focus on those who see your vision, and move forward confidently.
In Elvis' too-short life there are likely as many cautionary lessons as positive ones.  That article is for someone else to write. And however true and accurate those cautions would be, they don't diminish the value of the lessons shared here.
Take the time to consider these ideas. Hold yourself up to these standards.
Then sing along to your favorite Elvis song and think about how you can use his lessons in your life and work.