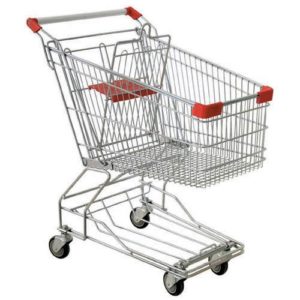 Behold the shopping cart (or depending on where you live, the trolley, carriage, trundler, buggy, wagon, or basket).  Regardless of where you live or what you call it, one of the forerunners of the modern shopping cart was introduced on this date in 1937 in Oklahoma City by Sylvan Goldman, owner of the Piggly Wiggly supermarket chain (it was patented in April 1940).  On the 75th anniversary of this event, I share some lessons in creativity and innovation from Goldman's idea.
One idea can make a big difference.  Think about all the places you go where you see a shopping cart or some variation of it.  All of those situations were impacted by a simple idea – an idea so simple, that to us to today it is hard to imagine the world without the idea.  Your idea might not be used as broadly as the shopping cart, but it might be more important to a smaller group.
The best ideas solve an important problem.  Goldman wanted to make it easier for shoppers to carry their items – and in some cases, shift the selection of items to the Customer and away from store clerks.  The lesson for us is that we will come up with better ideas when we focus on solving a problem.  In the shopping cart's case, it improved things for both the store and the Customer.  This combination improved the value of the idea and increased the momentum of implementation.
Ideas will face resistance.  According to my brief research, there was lots of resistance to early shopping carts.  At first, men found them effeminate – because they reminded them of a baby carriage.   That same mental connection was a problem for women too.  Apparently one woman told Goldman "I've pushed my last baby buggy." Resistance is a natural reaction to new ideas – it doesn't mean the idea is poor or will never work.  Take resistance as feedback and an impetus to improve, not a reason to stop.
Focus on implementation – not just the idea.  Goldman built the first shopping cart by putting wheels on a wooden folding chair and a basket in the seat.  He called it the "folding basket carrier."  He didn't stop there obviously.  He and other inventors continued to update, change and tweak the design until today, where we have a plethora of sizes and types of shopping carts.  In the end it isn't the idea at all – it is the implementation of the idea that makes all of the difference.  Are you implementing any of your ideas?
There's always room for improvement.  Even after seventy five years, the shopping cart is still changing and needs improvement.  We have different sizes; some carts are made of plastic and other materials; some carts are motorized; some look more like rides for children; and still, most of the wheels don't work right!  Your best ideas will continue to morph and improve as you implement them.  Don't be surprised or discouraged by this – recognize and welcome it!
Do you see the common thread through all five points?
Implementation.
Ideas only matter if you act on them.
Your idea may not be as "big" as the shopping cart, but the lessons here apply to all ideas we want to implement.  And who knows when you take your idea and make it real, maybe someone will write about it 75 years from now.