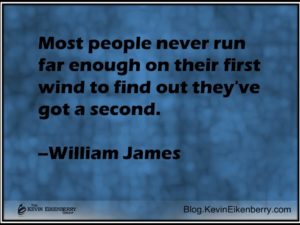 William James, sometimes called the Father of American Psychology, penned some of my favorite quotations.  Today's is certainly one of them.
Questions to Ponder
– How often have you experienced your second wind?
– When was the last time?
– What goal is important enough to work long enough to find that second wind?
Action Steps
1. Determine an important goal.
2. Expend effort – more effort than you ever have before – towards that goal.
3. Watch for the experience of the second wind.
4. Ride that burst of energy and success to create new levels of achievement.
My Thoughts
The second wind is a concept in exercise, particularly running where an athlete who feels out of breath and too tired to continue suddenly finds the energy to continue with less energy. The cause of this phenomenon is under debate, with some claiming scientific reasons and others believing it is psychological.
The physical phenomenon has led to the metaphor of pressing past our previously perceived maximum to achieve at higher levels. It is this metaphor that today's quotation focuses on, and why I chose it.  After all, this isn't an exercise blog. . .
To reach our goals and achieve our potential, we must be willing to work. As leaders, we must help people push past their self-imposed beliefs and boundaries to get to the magical place of flow, or second wind. To do this, we must provide support and encouragement, but more so, we must provide belief. I believe the biggest reason today's quotation is true is that people don't believe in themselves enough to push long enough to get to that second wind.
The second wind comes from extended effort, but the effort will be extended when we believe.
Do you believe?
How can you help those you lead believe enough to reach their second win, and reach their potential?