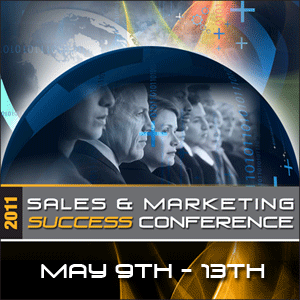 Next week you can enhance your personal, marketing and sales success with a unique online conference.
You might be wondering why I would be talking about a Sales and Marketing Conference on blog mostly about leadership . . .
That is a good question, and I'm the perfect guy to answer!
There are at least five reasons why I am talking about the 2011 Sales and Marketing Success Conference on May 9th-13th.
1.  Everyone is in the sales and marketing business.  When you look over the sessions (full details and the program can be found here), you will see that the highlighted word success is the most important word in the title.   This blog is definitely about helping you be more successful!
2.  The line up of speakers is truly amazing.
3. Unlike some online conferences, in this one you can pick the sessions you want to attend, and pay only for those sessions (and the price is just $5/session!)
4.  When you register for a a session you get a full 30 minutes of content rich time with the expert, as well as a copy of the slides and access to the recording afterwards.
5.  I am one of the speakers – I'd be honored if you would attend my session on Monday afternoon.
6.  And perhaps the best reason, all the proceeds, minus a small admin fee, goes to the Earthquake relief efforts in Japan.
Here is my challenge to you: check out the full schedule, and I dare you to complete it without seeing at least one 30 minute session that you (or members of your team) could benefit from.
Let me know what sessions you choose to attend!