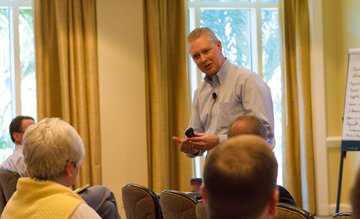 In many parts of life, timing is everything.
That is certainly true for training.
People may want and need training, but the timing has to fit their schedule, their development and their budget. Often times people don't get the training they need, when they need it, because it isn't available.
We've been in the learning business a long time. And we've been in the public workshop business quite a while too. But it was only this year, when I acquired the part of a business that we partnered with on public workshops, that I had the control I needed to help solve this problem.
Today we release our workshop schedule for the first half of 2014. While we still have plenty of workshops to help you meet your needs in the remainder of this year, we want to help you plan for your needs (and the needs of others in your organization), with a longer time horizon than December.
We know that you may not be able to budget for training now (or that you might want to know your options as you finalize your budget); that you might have budget money now, but not the time (now you can pre-register for the best time for you); or that you are waiting for a session to come to a location more convenient or interesting to you. Whatever your situation, we hope you will find what you are looking for in our workshops.
Plus – if you are planning to promote someone to a leadership role, now you can strategically schedule them for the Bud to Boss workshop at exactly the right time in their development.
Along with releasing this schedule, we are announcing a couple of other changes too. Because of our acquisition, we are in the process of renaming and re-branding some of our popular workshops. (You won't see all of these changes on the websites quite yet, but look for them in the coming weeks.) Our workshops are always in a constant state of improvement and adjustments, so these name changes don't represent something brand new, but an acknowledgement of our ongoing improvement efforts. Specifically,
Leadership Training Camp is now The Remarkable Leadership Workshop. You can learn all about it, see the workshop schedule and register here.
The Ultimate Communicator will soon be Communicating for Results: Resources for communicating with tact, credibility and influence. You can learn all about it, see the schedule and register here.
Coaching Training Camp will soon be Remarkable Coaching. You can learn all about it, see the schedule and register here.
In addition to these two changes, I am also in the middle of completely updating and improving the Advanced Remarkable Leadership Workshop. It will be offered in December of this year and a couple times in the first half of 2014. It includes my best thinking on leadership, and promises to be a powerful learning experience. You can find the details here.
Last, but not least is the program created by Guy Harris, Conflict Confidence. This powerful workshop brings together the best of the best on communication and conflict resolution, put together with practical ways to apply it all in the tough situations in the real world. You can learn all about it, see the schedule and register here.
Two Important Notes
First, while finding the right workshop at the right time is important, training alone won't solve all of your performance needs. That is why all of these workshops include ongoing learning components to help you really apply and really learn from the workshop experience.
Finally, while all of these workshops are available in the locations and dates listed in the schedule, we are always ready to talk with you about bringing these programs inside your organization – ether as they are, or customized to your specific learning and cultural needs. If you want to discuss those options, fill out the form here.