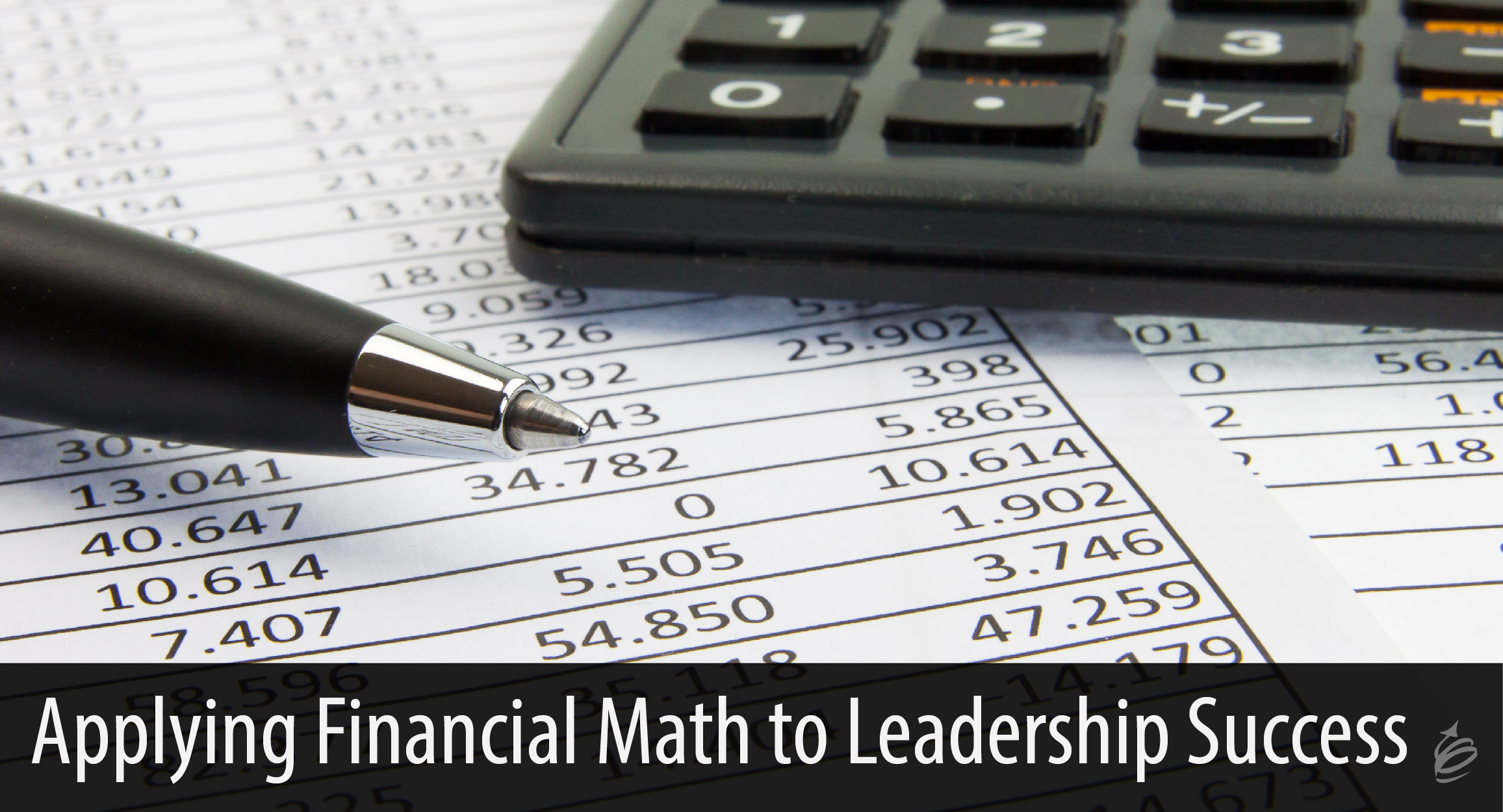 If you are a leader in the world of finance, you might be excited by this title. If math isn't your favorite subject, you might be wondering if you want to continue. Regardless of the nature of your work or your proficiency with numbers, the ideas I am going to share can be a key to your leadership success, and no calculator is required.
There is a common rule used in the world of finance called The Rule of 72. Investopedia.com defines it as:
The rule of 72 is a shortcut to estimate the number of years required to double your money at a given annual rate of return. The rule states that you divide the rate, expressed as a percentage, into 72: Years required to double investment = 72 ÷ compound annual interest rate.
For example, if your money grows at 6%/year your money will double in 12 years, if your money grows at 12%/year your money will double in 6 years.
While this estimate can be very helpful in planning for your retirement, this isn't a retirement or investment blog.  I want you to consider the Rule of 72 as it applies to your personal/professional improvement and to your ability to coach others successfully.
Consider if you could improve in any skill by 1% per month – that would equate in simple terms to 12% growth/year (we'll leave out the compounding effect, which would actually make it a bit more than 12%). 12% growth/year, using the Rule of 72, means you would be twice as good in that skill in 6 years.
Given your new simple estimation tool, you can "do the math" for any improvement rate, but let's just stay with the 1%/month example.
Can you take a skill and make a plan to get 1% better each month? I don't think it would take you long to come up with such a plan; in fact chances are you are already thinking that 1% is a pretty low bar.  But if you made this "easy" plan, and stuck with it, you would be twice as good as you are today in six years.
Think about how much different your results would be, how much more productive you would be, how much more value you could add if you were twice as skilled as you are today.
Now look at his from a coaching perspective.
If you have a team member who is struggling to meet the performance standards, think about the power of 1%/ month. This idea can give them hope – that with a simple plan they can make a big move in ability and productivity in a relatively short time.  If you have a team member who is already quite successful, this can give them an aspirational vision of their future.
When I think about applying the Rule of 72 to personal and professional growth I think about three ideas: potential, patience and persistence. The Rule of 72 tells us that we have tremendous potential – and if we stick to a plan we can grow to great heights from any starting point. It tells us that if we have a plan and are patient, good things will happen, and that persistence will carry the day.  1% better each month, will make a big change sooner than we realize.
My example has all been built around 1%/month. But what if you could get 2% better each month?  If you could do that consistently you would be twice as effective in three years.
You don't need a calculator and you don't need to be a math major to see the value of applying this one financial formula to your personal and professional growth.  Start now, and you can begin seeing a much different future much sooner than you might realize.