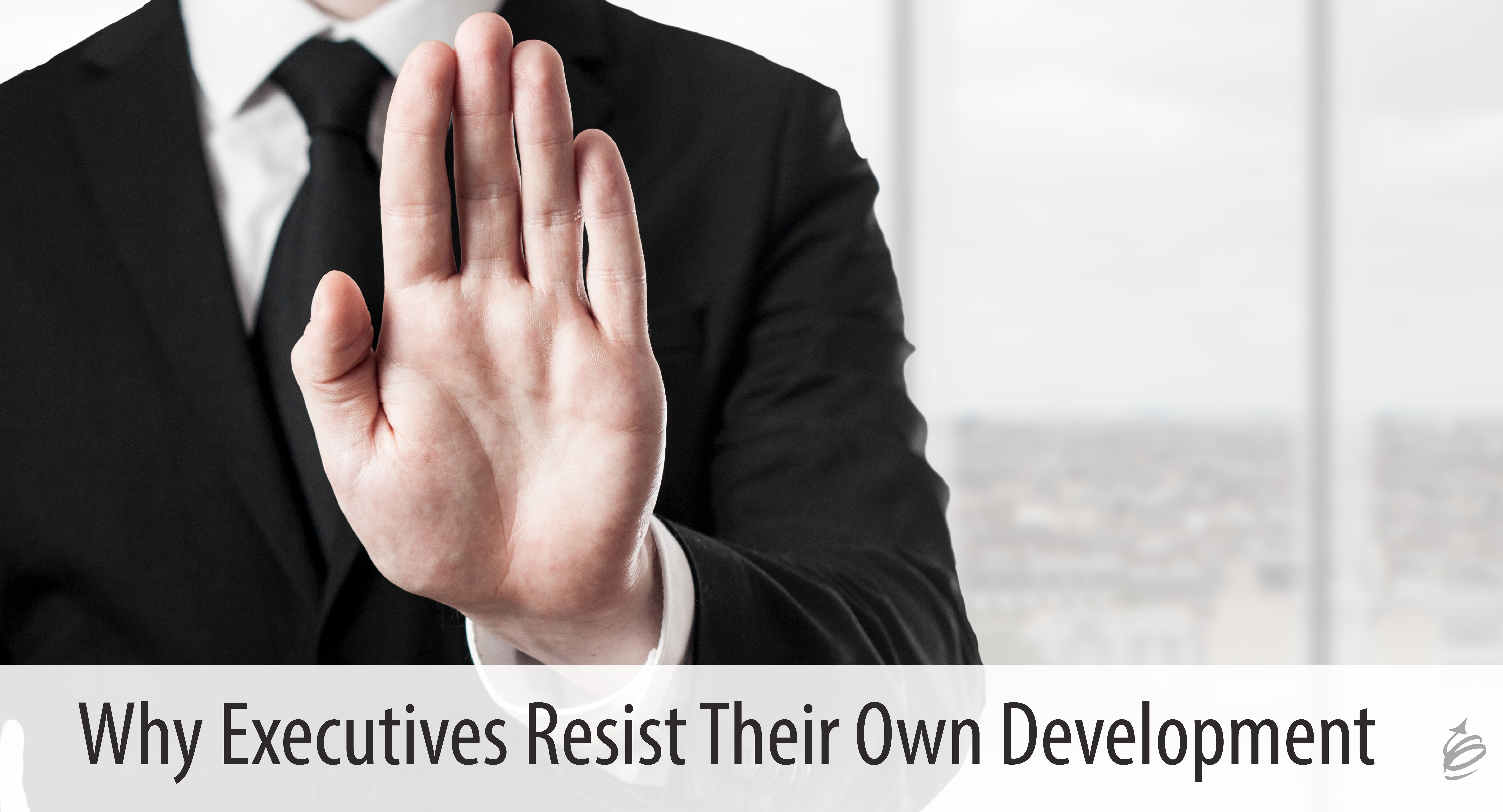 Most organizations are in one of two categories when it comes to executive leadership development. Either executives are the only group to receive training and development, or they are the last group to get any. While neither of these is the best answer, the largest percentage of organizations fall into the second group. Even in organizations that believe in leadership development and invest in their leaders, executives are often the group that goes without much (any?) development.
One of the reasons?
These executives resist their own further development.
I've talked to many in talent and leadership development who scratch their heads at this quandary. Why would executives support developing others, but resist development opportunities for themselves?
The Stated Reasons
Through both observation and discussion with many executives, I have a partial list of reasons they give when passing up or avoiding their development. Here are seven reasons I've frequently heard.
"I'm too busy." There is no doubt that executives have a full plate. But playing the busy card doesn't really hold up. Do they let others get away with resisting something important by simply declaring they are busy?
"Others need it more than I do." This is usually meant to sound like a martyr's statement – "I could use it but share the resources with others instead." It sounds good, but is usually a prettier way of saying "I don't want to."
"It's not in the budget." This is the more matter-of-fact version of the reason above. But again, budget money is nearly always found for things of a high enough priority, right?
"I'm fine." This, or other versions of the statement, are made explain that they are doing ok as a leader, and don't really need any further development.
"I've been to all the classes." Executives will often look at the catalog or options in the organization and explain that they have attended all those courses. Or perhaps this is a more general statement that they have attended all sorts of leadership training in their careers. This is the equivalent of the "Been there, done that" reasoning.
"Even if I wanted some development, I don't know what I would do." Here the executive might be admitting a need, but quickly moves past it with an excuse. Typically, this is due to a lack of awareness of options or thinking about their options too narrowly.
"There is nothing designed for executives." Perhaps this leader has seen many leadership development programs come across their desk but haven't seen or noticed any designed for executives. Again, this is either an excuse or is a lack of awareness of what the marketplace has to offer.
The Bigger Picture
Maybe you have heard (or said) some of those things. Perhaps they are true, and perhaps they are even the whole truth. But in my observation, there are some deeper reasons that are either not stated or are meant to be masked by one of the stated reasons above.
Here they are:
If I seek out training or attend, I will look like I don't have the answers. Ego is a powerful motivator, regardless of the direction. And often, ego is the source of the resistance.
I really don't want to do it. The reasons why could be many. While it might not be what they say, they have more control of these decisions as an executive. So if they don't want to, they probably won't.
I would like to get better at some things, but I doubt there is anything (or anything I've seen) that will address my needs. Doubt often keeps us from moving forward or resisting a change. And it is no different in this situation.
If you are an executive, I hope this article helps you think through your real reasons. Even more, I hope that you can get past excuses so you can continue your own development to becoming the best leader you can be.
If you found this helpful, I am going to say more and go deeper into executive leadership development in a webinar titled Keys to Developing Executives – What They Need and How to Influence Them to Do it. This webinar will take place June 11 at 11 am ET, and we have a limited number of seats still available. Learn more and sign up today!