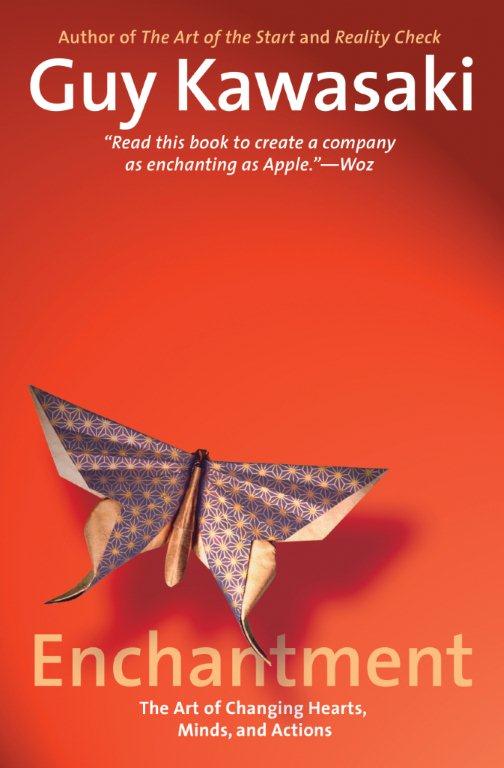 This week's resource recommendation is Enchantment: The Art of Changing Hearts, Minds and Actions by Guy Kawasaki.
Do you want to influence, persuade or attract others to your ideas?
If your answer is yes, whether you want to persuade an individual or are thinking about starting a business, marketing a product, leading others successfully [or insert your own reason],then you will likely benefit from this book.
What I am saying is the concepts and ideas in this book have broad application and when you apply them they will make you and your ideas more influential.
Kawasaki does a great job of interspersing stories, research and personal experience in a way that is both practical and enjoyable without falling into the current popular trap of hanging the book's thesis completely on research gathered far and wide.
In other words, while Kawasaki is an excellent writer, he practices what he preaches, he didn't just find a great hook for a book.
While I have read many of the books cited and listed in the bibliography, I found new insights or fresh retakes on several pages (and I've just ordered three more books he mentioned that I haven't read!).  One of the things I love about a book is when it gives me a great concept and a word to connect it to.  In this book I found two such word/concept connections that will become a part of my conversation and thinking.
Not everything in this book was new to me – not knowing your past reading and studies, I can't say whether that is true for you.  I can say that while I knew many of the ideas already, and I nodded my head often, I also didn't put the book down.
The author is accomplished and well connected.   This fact may sometimes dissuade you as a reader or make you wonder if the book is good or if it is selling based on the reputation and marketing ability of the author.  I am not the first, nor the most well known person to review and recommend this book.  Perhaps I picked it up in part because of the author.  But I read it because it is an excellent book.
I enjoyed it.  And yes, I was enchanted.  I'll bet you will be too.
Note:  Because of my blog I am often asked to review new books – usually in exchange for the book itself.  About half of those requests I turn down, and many of the books I receive I don't recommend here.  I scanned this book when I received it, and have read many positive reviews of it since it came out.   Now that I have had a chance to read it, as you can tell from my recommendation, I'm glad I did.