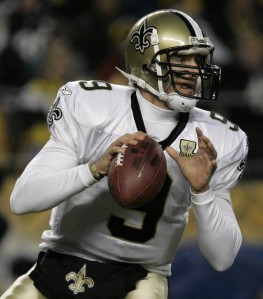 Tomorrow Drew Brees will lead the New Orleans Saints into the NFC Championship Game against the Minnesota Vikings.  While I am biased as a fellow Purdue Alumni, I believe that Drew is among the top passers (a skill) and best quarterbacks (a range of skills and behaviors, including leadership) in the league.
While his numbers prove the first and his record hints at the second, the purpose of this post isn't to give props to a fellow Boilermaker.  Rather, I'd like you to watch both of the videos below all the way to the end, then rejoin my commentary for some lessons we can all take from the clips, and the man.
The first video shows a master at work – taking a very difficult skill and understanding it at a depth that proves his dedication and willingness to practice.  The second video gives more evidence of his work ethic and desire.
How well do you stack up to his example?
In addition, the second video also shows his leadership skills – and how he displays them both overtly (firing the team up before the game) and subtly (through his example of coming early, and staying late, among other things).
Perhaps you aren't a sports fan, and if you aren't you probably aren't reading or didn't watch all of the video.  If so, I realize sports analogies are often over-used.  In this case I believe there are real leadership lessons here and I encourage you to think about those I've shared, and the others you unearth for yourself.
Look in the mirror and compare your effort, discipline and dedication in becoming a successful leader, to Drew's in becoming a great quarterback.
If you are like me, it is time to get back to work.